Flora Fountain shut 4 days after inauguration due to suspected leak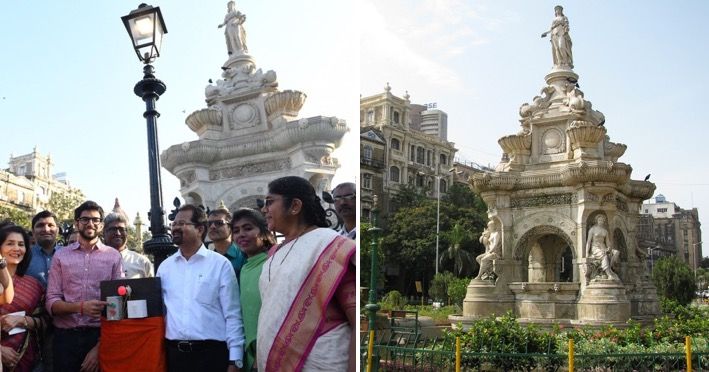 Four days after the iconic Flora Fountain in South Mumbai was inaugurated following extensive restoration work, civic officials shut it down on Monday owing to a suspected leak.
The 153-year-old structure, located in heart of South Mumbai's Fort business district, was unveiled by Mumbai mayor Vishwanath Mahadeshwar and Shiv Sena leader Aaditya Thackeray last week.
However, following continuous water loss, officials noted that the inauguration might have been premature and shut the fountain yesterday.
According to reports, the civic body has had to use additional water tankers apart from the regular water supply to operate the fountain since its inauguration.
The fountain's storage tank has a capacity of 45,000 litres and it's engineered to reuse available water. However, the civic body had to provide additional 10,000 litres by water tankers to keep it functional, which prompted them to investigate a possible leak.
On Monday afternoon, officials from the BMC's heritage maintenance wing shut the structure and barricaded the area to undertake repair work. The fountain will be reopened once the source of water loss is located and fixed permanently.
Given that the restoration work entailed several modifications, officials said it might take a few days to ascertain the exact cause of the leakage or seepage. The prime suspect at this point is the valve that connects the electrical pump with the fountain.
Meanwhile, Assistant Municipal Commissioner of A Ward, Kiran Dighavkar, stated that there's no problem with the structure.
"There is no leakage in the fountain and the loss of water is on account of multiple reasons, such as evaporation and possible seepage but we are not sure. We have provided a water tanker last week for the fountain," she told The Indian Express.
The work to renovate the Grade I heritage structure, at a cost of Rs 1.25 crore, was given to the Indian National Trust for Art and Cultural Heritage (INTACH) by the BMC in September 2016. But the work was delayed due to the lack of funds.
According to noted architect Vikas Dilawari, who is overseeing the project on behalf of the BMC, the restoration work was divided into two parts.
The first part included the restoration work of the main monument while the second one entailed the upgradation of the surrounding and landscaping, which is expected to take a few more months.
Built in 1864, the ornamentally and exquisitely sculpted architectural heritage monument depicts the mythological Roman goddess of flowers, Flora.