Air India flight hits safety wall during take-off, makes emergency landing at Mumbai airport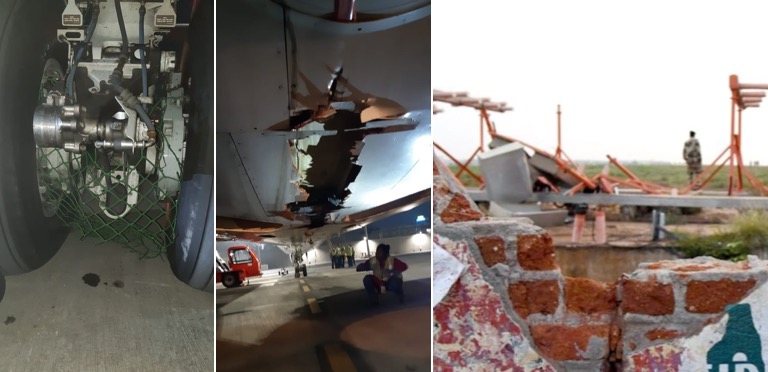 The 130 passengers of a Dubai-bound Air India Express flight had a narrow escape after their plane hit a compound wall at Trichy international airport while taking off, forcing the pilots to divert the flight to Mumbai.
The Air India flight IX 611, which took off at around 1.20 am today from Tamil Nadu's Trichy, hit the safety wall at the runway just before take-off. It was carrying 130 passengers and six crew members on board.
After a brief period of radio silence, communication with the Air Traffic Control (ATC) resumed and the pilots were instructed to make an emergency landing at Mumbai airport.
The flight travelled around 350 km before landing safely at Mumbai's Chhatrapati Shivaji International Airport at around 5:35 am, where emergency vehicles were on standby. It was parked at bay K-6L for an inspection.
While the extent of the damage to the wheels of the Boeing B737-800 plane is not known as of now, the ILS (instrument landing system) antenna has reportedly been damaged. The five-feet-tall compound wall it hit has also given way.
On hearing about the incident Tamil Nadu Tourism Minister N. Natarajan visited the airport to inspect the damage.
Trichy- Dubai Air India flight with 136 passengers on board hit the ATC compound wall at Trichy Airport yesterday and was diverted to Mumbai. The flight had got damaged under the belly, was declared fit for operations after inspection at Mumbai Airport. pic.twitter.com/8cczII46Mp

— ANI (@ANI) October 12, 2018
Airport officials suspect that a bird might have hit the plane's engine, resulting in the mishap. Meanwhile, Directorate General of Civil Aviation (DGCA) has ordered an official inquiry into the incident.
The passengers have been flown to Dubai in another flight and the pilots have been taken off the roster as of publishing this report.
---
Also Read: Passengers bleed mid-air on Jet Airways flight as crew forgets to maintain cabin pressure
---