FYJC 2018: 4th merit list out, special round for vacant seats next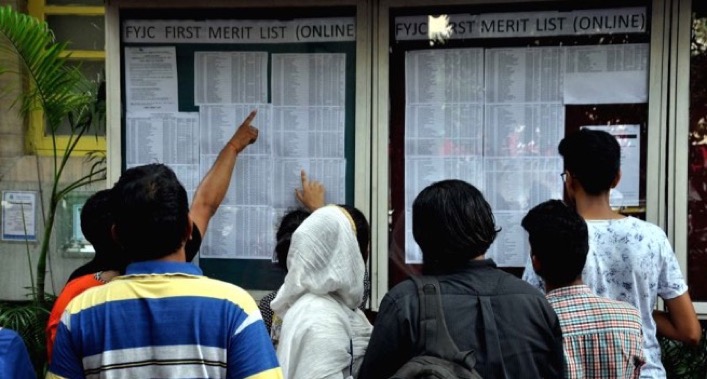 The office of the Deputy Director of Education (DyDE) declared the fourth general merit list for First Year Junior College (FYJC) 2018 applicants on its admission portal around 11 am on Tuesday, August 7.
Vacant Seats
Over one lakh students have secured admission in the first three centralised admission process (CAP) rounds that have completed till now.
Since two lakh students had applied for the CAP initially, around one lakh are yet to take admission. An estimated 1.4 lakh seats are currently lying vacant across junior colleges in the city.
Several prominent colleges have managed to fill most of their general category seats in the first three rounds. Due to the limited number of available seats, there has been a negligent drop in cut-off percentages of top colleges in the fourth merit list.
Checking Merit List
In order to check the college allotted in the fourth round, applicants need to:
# Visit the admission portal – mumbai.11thadmission.net
# Click on the link 'Centralised Allocation Round 4' (rolling button under the main image).
# Enter 6 digit application form number.
# Hit 'search' button.
The next page will show the college allotted in the first round, along with the other details like college address, college preference number, category, marks, selected stream and merit number.
What's Next
* Students satisfied with the college allotted in the fourth round need to visit the institution and confirm their seat by paying the requisite fee before 6 pm on August 9.
* Since quota admissions typically complete before the CAP rounds, the department conducts a a first come, first served round for general category applicants who haven't confirmed their seat till the last CAP round.
* This year, after several minority colleges tried to include their quota seats in CAP, the Bombay high court's Nagpur bench barred them from doing so and ordered the department to return the seats back to the institutions.
* As a result, around 58,000 quota seats – many of which are in top colleges – will be up for grabs after the completion of the fourth round.
* While some minority students are likely avoid uncertainty and settle for the college allocated in the current round, those willing to take a risk in the hope of securing a better college are expected to skip this round and wait for the announcement.
* The department is currently in the process of drafting rules for the special rounds, which will allow general category applicants to confirm seats on the first come, first served basis and those seeking admission under quota to apply to minority colleges.
* The details about the special round are expected to be announced shortly.