FYJC 2018: Special merit list out, first-come-first-serve rounds next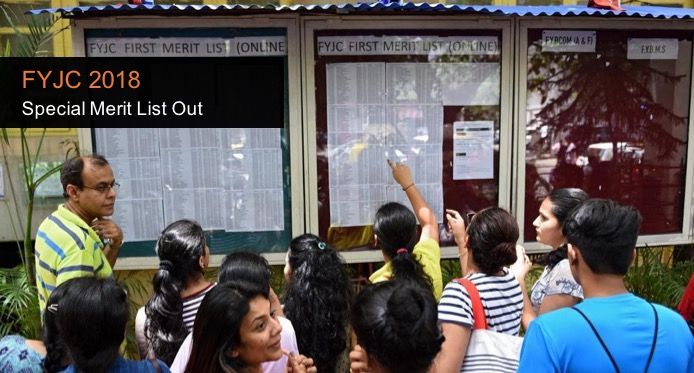 The office of the Deputy Director of Education (DyDE) declared the special merit list for First Year Junior College (FYJC) 2018 admissions on Saturday.
This is the final list that will be declared for applicants seeking admission under the centralised admission process (CAP) rounds.
The list includes students who have not secured admission till now, either because they did not confirm their seat in the college allotted to them in the previous four rounds or they were not allotted seats.
Over 57,000 students, seeking admission in Mumbai colleges, were yet to confirm admission before the declaration of the special merit list. Of them, 17,000 were not allotted a college in any of the previous lists.
There are over one lakh vacant seats across city colleges, including the quota seats surrendered by minority colleges.
Checking Special Merit List
In order to check the college allotted in the fourth round, applicants need to:
# Visit the admission portal – mumbai.11thadmission.net
# Click on the link 'Centralised Allocation Special Round 1' (rolling button under the main image).
# Enter 6 digit application form number.
# Hit 'search' button.
The next page will show the college allotted in the current round, along with the other details like college address, college preference number, category, marks, selected stream and merit number.
What's Next
Students who are satisfied with the college allotted to them in the special round can confirm admission by paying the requisite fee on or before 5 pm, August 21.
Applicants who are not content with the allocation can wait for the first-come-first-serve (FCFS) rounds. The department is expected to announce additional details pertaining to the FCFS rounds by August 21.
Students who had cancelled their admission in any of the previous rounds, or those who did not confirm admission despite being assigned their first preference college, were not included in the special round and will have to wait for the FCFS rounds.
Since the seat allocation in the FCFS rounds will be based on several factors, officials from the education department and college authorities have advised students to confirm admission in the college allotted in the special round.