Ganesh Chaturthi 2018: Mumbai set to welcome Lord Ganesh tomorrow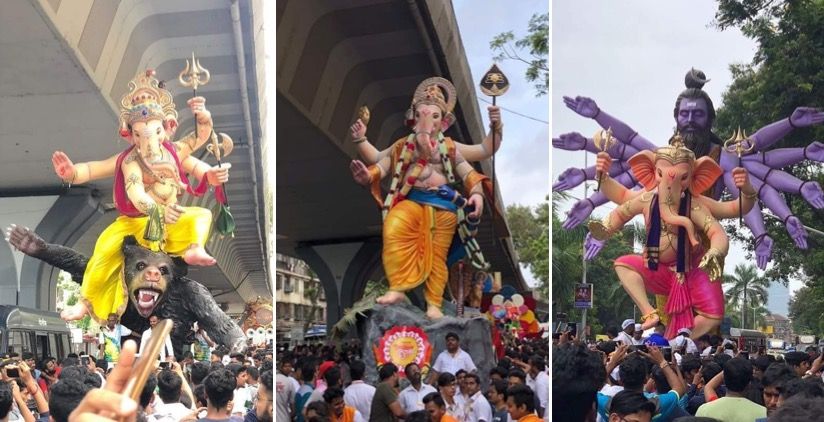 Mumbai, along with the rest of Maharashtra, is all set to welcome the elephant-headed god 'Lord Ganesha' during the 10-day long public festival, which gets underway on Thursday.
Millions of idols of lord Ganesha, ranging from big to small, will adorn homes of commoners, celebrities, industrialists and politicians, housing complexes, private and public companies tomorrow.
---
In Pictures: Most iconic Ganesh idols of 2018 in Mumbai
---
Besides, huge or gigantic idols will be welcomed at public marquees organised by Sarvajanik Ganeshotsav Mandals all over the state.
Like each year, the private Ganeshotsav of top celebrity families like Lata Mangeshkar, Sachin Tendulkar, Shah Rukh Khan, Salman Khan, and Hrithik Roshan are generating immense interest among the public.
Meanwhile, specialists and artists have been giving final touches to their lord Ganesha idols and delivering them in trucks, tempos, cars, motorcycles, bicycles, while some carry them on their heads to their homes, amidst chants of "Ganpati Bappa Morya"
This year, Ganeshotsav coincides with the Jain holy month of fasting during Paryushan, the ongoing week-long Mt. Mary Church annual fair in Bandra and Muharram, which will be observed by the Muslim community on September 20.
Immersion of Ganesha idols will be taken up in phases and the grand send-off would be on September 23.
Now in its 126th year, the festival was started on a modest note by freedom fighter Lokmanya Bal Gangadhar Tilak in 1893 to rally the masses against the British rule.
This year, an estimated 300,000-plus big and small idols of lord Ganesha shall be installed in the city in private and public venues and across Maharashtra, said Naresh Dahibhavkar, President of the BrihanMumbai Sarvajanik Ganeshotsav Samanvay Samiti (BSGSS).
Special prayer ceremonies shall be performed at various Ganesha Temples, including the Siddhivinayak Temple, Ganesh Mandir in Goregaon and Borivali and the Ashthavinayak Temples.
There are nearly 11,500 big-ticket Ganeshotsav associations with budgets of several crore or equivalent to small civic bodies, nearly 195,000 medium-scale with budgets ranging from Rs 500,000 to Rs 5 million, and lakhs of individual households and other private organisers with small budgets.
"This year we are cutting corners without affecting the festivities. This is due to the exorbitant petrol-diesel-gas prices and spiralling inflation," Dahibhavkar told news agency IANS.
He said that the pillars of the festival comprising flowers, sweets, lights, and decorations have become far more expensive than last year and tossed all budgets haywire.
"Flowers are five times costlier, sweets especially 'modak' are more than double, dry fruits cost even higher, lighting and decorations are also much expensive.
The GSB Seva Mandal in Kings Circle will unveil its 14.5 feet tall idol adorned with over 68 kg of 22-carat gold and 327 kg silver, besides expensive diamond-studded jewellery, including many articles donated by devotees, which makes it the richest Ganpati marquee in the world.
Dahibhavkar said that in 2018 there will be more than 400 gigantic idols in the public marquees within the prescribed height limit of 18 feet, around 20,000 medium sized and the rest small sizes in Mumbai.
Hectic preparations are underway in other cities like Pune, Nagpur, Nashik, Kolhapur and the coastal Konkan where Ganeshotsav is the most important festival in the annual calendar, surpassing even Diwali.
Millions of Konkanites working in urban centres like Mumbai, Thane, Pune, and other places have left for their villages in the coastal districts, creating massive snarls on the Mumbai-Goa Highway.
As in the past, the Maharashtra Tourism Development Corp (MTDC) has made special arrangements for domestic and foreign tourists with special bus tours to important venues, walking trips, exclusive viewing galleries during immersion and other activities.
With agency inputs