Gokhale Bridge in Andheri repaired, re-opened for vehicles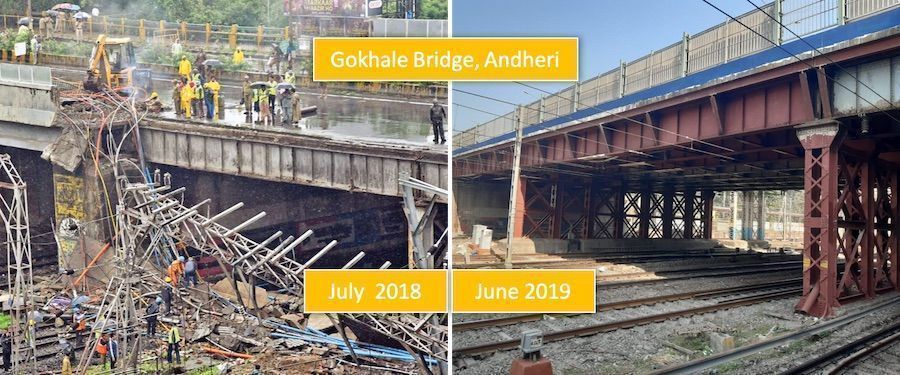 Nearly a year after the partial collapse of its pedestrian section, the GK Gokhale bridge in Mumbai's Andheri area was thrown open for vehicular traffic on Sunday morning.
The south-end of Gokhale road-over-bridge was closed in July 2018 after the fatal collapse of the cantilever side footpath, resulting in the death of three persons.
"After falling of cantilever footpath at south-end of Gokhale bridge, a safety audit through IIT Mumbai was undertaken by WR and the major repairs and strengthening works to be undertaken were identified," said Ravinder Bhakar, chief spokesperson, WR.
The repair and strengthening work on the south-end began in September and completed in January 2019. On Sunday, Western Railway completed the construction of walkways on both sides of the bridge and strengthening of the girders.
Earlier, the ROB had protruding 3.5-metre-wide walkways attached to its main deck. To reduce stress, the width of the walkways has been cut down to 2 metres, of which 15 metres has been carved from the main deck and only 0.5 metres protrudes outside.
WR spent an estimated Rs. 3.34 crore on the repair work, which took almost one year as it could only be carried out at night to avoid traffic disruption.
"The work involved dismantling of 3.3m wide cantilever old slab on both south and north carriageway, replacement of corroded steel brackets supporting slab, casting new slab and crash barrier and providing stainless steel fencing," Bhakar said.
While carrying out repairs, special care was taken with respect to the durability of the structure by choice of materials like using stainless steel which is corrosion resistant and design detailing like a reduced cantilever, rich concrete mix and lesser inaccessible parts making inspections easier, he stated.
The bridge's closure had added to the congestion on S.V Road and Western Express Highway, which is expected to ease now.
#ALERT – Gokhale Bridge at Andheri over railway lines completely open to public from Sunday morning. @WesternRly has completed the repair works. It involved dismantling of 3.3m wide cantilever old slab on both South and North carriage way, at a cost of Rs. 3.34 crores. @mid_day pic.twitter.com/A8V0Yzzt3A

— Rajendra B. Aklekar (@rajtoday) June 16, 2019