HDFC bank removes iron spikes from Fort branch after outrage, apologises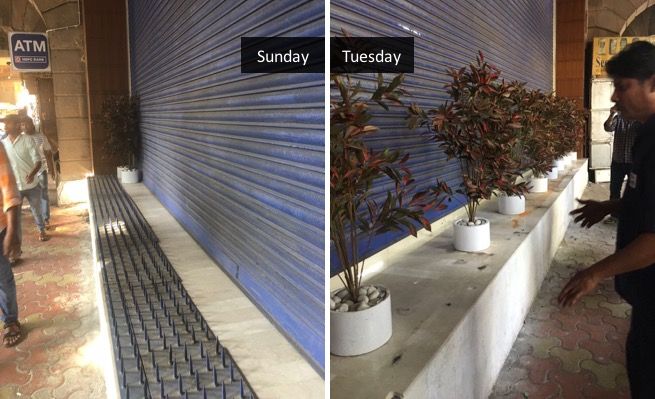 Less than 48 hours after a journalist posted pictures of 'anti-homeless' iron spikes installed on the pavement of an HDFC Bank branch in Mumbai, sparking an outrage online, the bank removed the spikes from its premises.
HDFC bank drew flak for installing multiple rows of iron spikes outside their Fort Branch in Mumbai, which many saw as a move to prevent homeless people from sleeping on the pavements.
The images were posted on Sunday by Financial Times journalist Simon Mundy, who captioned the picture, "An eye-catching response to Mumbai's homelessness crisis from @HDFC_Bank (Fort branch)"
An eyecatching response to Mumbai's homelessness crisis from @HDFC_Bank (Fort branch) pic.twitter.com/5H8ErgUoth

— Simon Mundy (@simonmundy) March 25, 2018
Mundy's tweet went viral in hours, with a number of individuals posting photos of, what looked like a bed of nails, on social media platforms.
Some flagged up caution regarding the potential harm the spikes could cause to pedestrians, particularly to elderly people and children.
A Twitter user tagged HDFC Bank and said "This photo is of your newly opened branch at MG Road Fort Mumbai, besides Fabindia. Nice modern branch. BUT Why these hideous spikes? What if a kid/ elderly or physically disabled person falls on them and gets seriously hurt? May lead to very bad PR disaster."
"Not just it is insensitive and inhuman, it is also dangerous and a public safety hazard. Whoever did this, bank or landlord, should be punished," tweeted another.
While some users asked the bank to take corrective steps, a few even suggested boycotting the bank altogether.
"Shame on you, @HDFC_Bank! Shame on you! Sharing this with all my friends who have a/cs with you and will personally request each one of them to close their a/cs," said one user.
Amid the growing criticism, the bank, in a bid to avoid a PR nightmare, acknowledged the issue and assured a remedial action.
"We sincerely regret the inconvenience caused to the public by the installation of the spikes at our Fort Branch, as part of the recent renovation. We're having the spikes removed on priority," the bank tweeted.
The bank's Head of Corporate Communication, Neeraj Jha, also came forth to thank the public for bringing to issue to their attention.
"We are having it removed and we sincerely regret the inconvenience caused to the public," he wrote.
The spikes have been completely removed as of Tuesday morning.
Spikes have been completely removed @chaitanya_pm. pic.twitter.com/NV6gAUB4nj

— Neeraj Jha (@NeerajHDFCBank) March 27, 2018
Interestingly, BMC officials said that the spikes – while clearly dangerous – were not completely illegal as they were installed in the bank's premises and not on the footpath.