Highest ever allocation for railway bridges, passenger amenities in Budget 2018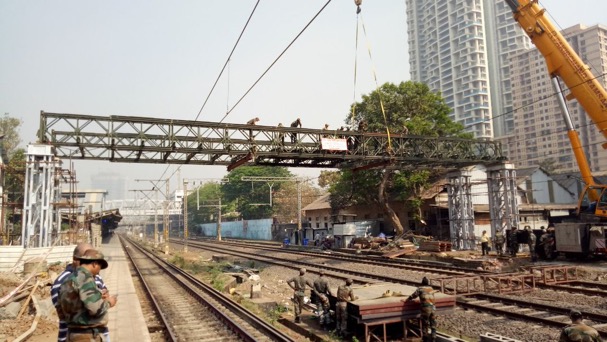 In the aftermath of the Elphinstone Road station stampede, Railways has made adequate allotments in Budget 2018-19 for the upgradation work across Mumbai division of both Western and Central lines.
Overall, budget 2018-19 reportedly allocated Rs 880 crore – the highest ever amount – for the construction of foot-over bridges. Similarly, the allocation of Rs 172 crore to CR and Rs 171 crores to WR for passenger amenities is also the highest.
The total allocation for the WR this year stands at Rs 5,802 crore, which is 31 percent more than the previous year. The CR, on the other hand, received Rs 4,619 crore for the new projects and passenger services.
"Now, fund shortage will no longer be a problem for the execution of projects," an official told PTI.
The pink book comprising the detailed breakdown of the railway projects and estimates was tabled in the Parliament on Tuesday and it was then shared with the respective rail zones.
Mumbai is headquarters to zonal railways– Central Railway and Western Railway– and railway projects are executed and implemented by the Mumbai Rail Vikas Corporation (MRVC), a joint venture of Railway ministry and state government.
WR General Manager A K Gupta said the budget has provided a bumper allocation for Mumbai suburban network so that long-awaited infrastructure projects can be taken up.
"Among the major works in the suburban network, 43 new FOBs at a sanctioned cost of Rs 450 crore, 372 escalators in WR and CR, extension of platforms between Andheri and Virar slow corridor to accommodate 15 car rakes, upgradation of coach maintenance depot at Bandra terminus, CCTV cameras for all suburban trains, have been sanctioned," he said.
"Earlier, we used to get about Rs 30-40 crore for bridges. We have got Rs 430 crore. We have received more than expected amount for adding amenities. In the earlier budgets, we would not receive allocation for bridges at certain railway stations. Now it is upon us to decide how many bridges could be constructed," Gupta told Indian Express.
Speaking about the Mumbai Urban Transport Project (MUTP)-3A, CMD of MRVC, R S Khurana, said, "Under the MUTP-3A project, that has been approved by the Ministry, work on the fast elevated corridor between CSMT-Panvel on Harbour Line, new suburban corridor between Panvel-Virar, 5th and 6th lines between Borivali-Virar, procurement of 210 AC EMU rakes, 4th line between Kalyan-Asangaon etc, will be taken up."
Khurana said these projects will be taken up keeping in view the future requirements of commuters in the Mumbai metropolitan region for the next 20 years.
CR Additional General Manager Vishal Agrawal said the Central Railway has received Rs 4,619 crore for the new projects and passenger amenities, which include new lines worth Rs 1,327 crore.
"Mumbai division has been given 34 works. The division today issued Notice Inviting Tenders (NITs) for 17 works collectively worth Rs 419 crore, including 21 FOBs, level crossing gates," said S K Jain, Divisional Railway Manager (Mumbai) of CR.
A budgetary allocation of Rs 1,000 crore was also made for the development of 35 railway stations across CR and WR.
With agency inputs