Hundreds of Gitanjali Gems, Gili India workers protest over uncertainty of employment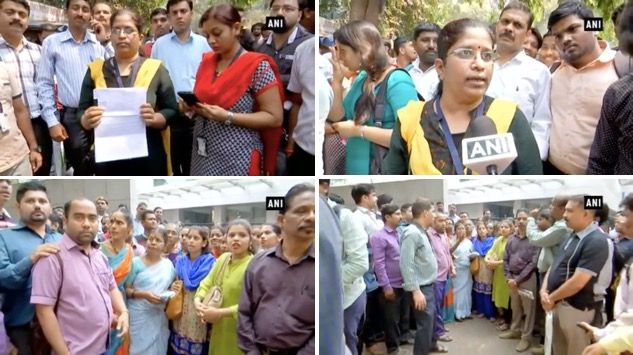 Hundreds of distressed employees of the scam-hit Gitanjali Gems took to the streets and staged a protest outside the company's office in Andheri on Friday.
The employees, who had gathered outside the firm's office in MIDC, Andheri East earlier today, protested against the lack of clarity about their current employment in the backdrop of the Punjab National Bank (PNB) fraud case.
Around 300-400 employees demanded alternative employment and said they did not have any official information about the status current of their services with Gitanjali.
Many of the employees were left with no option but to resign from their positions so they could claim their Employees' Provident Fund and Gratuity to make ends meet.
"'No one is forcing us to resign, people are resigning on their own," ANI quoted one of them saying.
Factory workers of Gili India Ltd also staged a protest at Andheri's Marol area earlier today after the company asked them to leave and find new jobs.
Both firms are owned by Mehul Choksi who, along with Nirav Modi, is the prime accused in the Rs 11,300 crore PNB fraud case.
The scam was started in 2011 and was detected in the third week of January this year, after which the PNB officials reported it to the concerned agencies.
The Enforcement Directorate (ED) and the Central Bureau of Investigation (CBI), probing the matter, have raided multiple locations linked to Nirav Modi and Mehul Choksi's firms in connection with the scam.
Their assets, bank accounts, and shares worth crores have also been either seized or frozen.
While both the accused are currently out of the country, their employees have been left in a lurch over the status of the salaries and employment.
Earlier this week, Nirav Modi had written to PNB and requested it to permit payment of salaries to his 2,200 employees from the balance lying in the current accounts.