In Pictures: Iron frame collapses on Mercedes car at CST Road, Kurla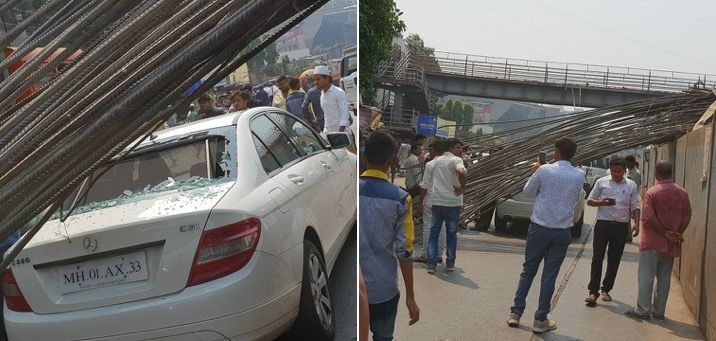 The driver of a Mercedes sedan had a lucky escape on Friday after an iron frame, used for the ongoing construction work at CST road in Kurla, collapsed on his car but left him unhurt.
The incident took place around 1 pm near the Kapadia Nagar gate on CST Road, where work on the elevated road – part of Santacruz-Chembur Link Road (SCLR) extension project – is currently underway.
The iron rods, used for reinforcing the concretised pillars, came crashing down on a white Mercedes C-class while it was heading towards Kalina.
Fortunately for the driver, the rods fell on the back of the vehicle, shattering the rear windshield and missing the driver cabin. The driver escaped the car unhurt.
Officials from Mumbai Police reached the spot immediately after the mishap.
While traffic cops were managing the vehicular movement on the busy road, a crane was deployed to remove the iron rods on war footing. The incident severely affected the traffic flow on the already congested road for around two hours.
The exact reason behind the frame's collapse is not known and an official update from the contractor, J. Kumar Infra Projects, is awaited as of publishing this report.
The rods were being used to construct the pillars for the 3.8 km elevated corridor. The corridor is a part of the SCLR extension project, which will connect Kapadia Nagar on CST Road in Kurla to Vakola junction on the Western Express Highway (WEH).
The corridor is expected to ease traffic on the CST road and connect SCLR with WEH, thereby reducing the congestion at Sion.
Mumbai Metropolitan Region Development Authority (MMRDA) awarded the elevated road project to J. Kumar Infra Projects in 2017.
In a similar incident, the iron frame of an under-construction Metro-7 pillar fell on a BEST bus in Kandivli in August this year. The frame collapsed while work on fixing the bottom shutter with a hydra crane was underway.
The weight of the rods dented the bus' roof, but the 25 passengers all escaped unhurt. The bus, number 718, was travelling from Dindoshi to Bhayander.