Maharashtra Plastic Ban: No penalty till June 23, confirms BMC Chief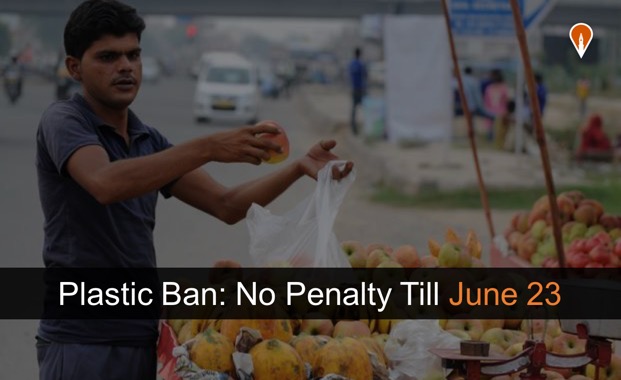 Amid confusion over penalties imposed for the alleged violation of the plastic ban, Brihanmumbai Municipal Corporation chief Ajoy Mehta confirmed that no fines will be levied on citizens and retailers over the use of banned plastic items till June 23.
Action against vendors using plastic bags less than 50 microns thick, however, will continue.
The clarification comes two days after a receipt showing Rs 5,000 fine imposed on a commercial establishment in Andheri started circulating on social media and WhatsApp, causing panic.
Confusion over penalty:
At the time of notifying the ban, the state government had stated that the civic bodies and other authorised agents would start penalising offenders after a month. The 30 day period was allotted to allow everyone to adhere to and get used to the ban.
During the period, citizens and retailers were expected to hand-over all banned plastic items.
However, since the last two weeks, multiple instances of civic officials carrying out inspections and levying fines on establishments that were still in possession of plastic bags came to light.
In the first instance, officials from K-West ward fined several eateries that were caught using plastic bags less than 50 microns thick. The action was taken in the last week of March.
Then, on April 3, BMC officers fined three more establishments in Andheri's Chakala area for the same violation. In all cases, a penalty of Rs 5,000 was imposed.
An eye-witness present during one of the inspections claimed that civic officials showed their dairy to prove many other businesses had been fined the same way. Officials also claimed that they were trying to meet targets set by seniors, the witness alleged.
Meanwhile, several other messages on social media platforms, all of them fake, claimed citizens were being penalised for carrying plastic bags.
The viral messages, which showed copies of the receipts issued by the BMC, sparked panic among business and citizens, who were caught unaware.
Even the business owners who were charged felt harassed and confused as they were under the impression that no fines could be levied for a month.
"I was in touch with several other restaurants who were trying to figure out how existing bags could be disposed of when civic officials visited my premises and fined me. My attempts at seeking clarification were also in vain," a restaurant owner from Lokhandwala, who was fined two weeks back, told Local Press Co on the condition of anonymity.
BMC clarifies:
Following the confusion, Additional Municipal Commissioner (Special) Nidhi Chaudhary clarified that the establishments in Andheri were fined for using plastic bags of lesser thickness, which had been banned for over a decade.
"The officials fined the businesses for using plastic bags below 50 microns, which have been banned since 2006," Chaudhary said, adding that the officers penalised the businesses under the provisions of the current law and not as per the new ban.
Another senior official confirmed that no targets had been set for collecting plastic-ban related fines.
Nevertheless, amid the growing uncertainty and the possibility of a backlash, the civic body has decided to temporarily stop taking action against the use of plastic bags and other banned items in the city.
The punitive action against the offenders will only start after June 23.
"I have ordered an inquiry to ascertain the facts. There is a clear direction from the government that coercive action against anyone for violating the new plastic ban will be initiated only after three months (June 23). We are not taking any action against anyone till them," BMC commissioner Ajoy Mehta told the Times of India.
"We will use the time to create awareness among people, will work towards providing alternatives — cloth and paper bags — and collect plastic for recycling," Mehta added.
The new deadline applies to both citizens and retailers. However, those involved in the manufacturing and selling of banned items are not covered under the extension.
Also, action against retailers using plastic bags less than 50 microns thick will continue.
Business willing to co-operate, but lack alternatives:
While some businesses have vehemently opposed the plastic ban in the state, there are those who are willing to abide by the ban if viable alternatives are made available.
"I have started using glasses to serve juice to customers who come to the shop. But, I am not sure how I can do the same for juices that I have to deliver to offices," quipped Santosh Kurad, a juice vendor from Khar.
The same problem applies to restaurants and delivery kitchens who are clueless about sending soups and gravies.
"As a citizen, I welcome the ban. But I urge the government to consider the fact that there are certain things, like containers for liquid-based food items, for which we don't have any alternatives. Many from our industry have tried to explore other options, even if they're more expensive, but in vain," said Savin Shetty, who owns multiple delivery kitchens in BKC.
Even fishermen, bakers, cloth retailers and many others affected by the ban, along with citizens, have raised similar concerns over the need for alternatives.
Incidentally, former BMC chief V Ranganathan, who headed a committee to implement the plastic ban in 2006, stated that achieving a complete plastic ban was not possible for the same reason.
Further, a ban of this magnitude could only be implemented in a phased manner, he said, adding that poor enforcement and lack of alternatives may lead to the ban's failure.
Other important developments:
Rollback of ban on 500 ml (0.5 litre) bottles: Earlier this week, the government lifted the ban on plastic bottles with a capacity of 0.5 litre. Consumers, however, will have to pay an additional Rs 2 per bottle under the depository buyback scheme.
Plastic collection bins installed: The civic body has started installing plastic collection bins at 25 prominent spots in the city. More bins, including one in each ward and every municipal market, will be installed in the coming days.
Installation of processing machines made compulsory: All starred hotels will have to install bottle crushing machines and malls will have to put up vending machines for collecting used plastic bottles under the depository buyback scheme.
Tackling plastic ban awareness: The BMC is already working on increasing awareness about the ban and on educating citizens and businesses about the correct means of disposing the banned items. The Maharashtra government has also earmarked Rs 10 crore for the state-wide awareness program.
Steps to curb corruption: In a bid to curb cases of corruption, the civic body has decided to upload a list of designated officials who will be authorised to collect fines. The officials will be given special uniforms, displaying their names, and I-cards.
Ban challenged in court: The Maharashtra Plastic Manufacturing Association (MPMA) has filed a petition in the Bombay High Court saying the ban would impact over thousands of industries and leave over 20 lakh direct and indirected workers unemployed.
Committees formed for discussions with stakeholders: The state government has formed several panels and sub-committees to discuss issues faced by manufacturing associations and other stakeholders, along with advising the government on what to include or exclude from the ban.
Penalty for plastic ban violation:
On March 23, the state issued the Maharashtra Plastic and Thermocol Products notification that banned the manufacture, use, storage, distribution, sale, import and transportation of all kinds of plastic items.
The ban covers a wide range of articles made of plastic and thermocol, including, bags, dishes, cups, glasses, bowls, forks, spoon, straw, containers, small PET bottles and decoration items.
Penalty for violations after June 23:
First Offence

: Rs 5,000 fine

Second Offence

: Rs 10,000 fine

Third Offence

: Rs 25,000 fine and up to 3-year imprisonment under the amended Maharashtra Non-Biodegradable Garbage Act, 2006.