Video: Man mercilessly assaults woman in running local, arrested at Dadar station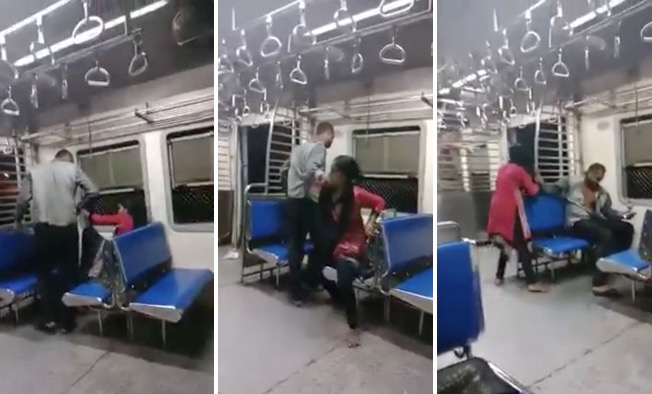 In a shocking incident, a man mercilessly assaulted a woman he knew in a running local train between Kurla and Dadar stations on Thursday.
According to preliminary information, the incident took place around 11 pm yesterday, when the duo were travelling in the local plying from Thane to Chhatrapati Maharaj Shivaji Terminus (CSMT) railway station.
The victim, Nazia Ansari, and the accused, Rafique Ali Khan, knew each other and boarded the train's handicap compartment together at Dombivali station. During the commute, the duo started arguing over money.
Ansari, police say, had loaned Rs 1 lakh to Khan which the latter was refusing to return. The argument took a violent turn after Khan started thrashing the victim in the full view of other passengers. The victim also approached the train's open exit, but was forcibly pulled in.
The incident was witnessed by another commuter, Samir Zaveri, who was travelling in the same coach.
"A man was cruelly beating a woman in the disabled compartment which I boarded at Thane. When the train started from Kurla, a man started assaulting the woman," he told Mumbai Mirror.
Despite wanting to, Zaveri was not in a position to help the female commuter.
"I being 90 percent disabled could not do much to help as there was a threat to my life if I intervened. I asked the security person, who was in the ladies compartment which is partially divided with disabled, to pull the emergency alarm but he did not respond," he added.
Upon witnessing the episode, a cop and other commuters in the adjoining compartment shouted at the accused, but were unable to directly intervene due to the partition.
The culprit, who was in an inebriated condition, was finally detained by GRP officials at Dadar station and subsequently booked under sections 307, 323, 354 and 506 of IPC. He will be produced before a railway court today.
Further investigation into the case is underway.
Video:
In a similar case, a female cop was assaulted by a group of men in a Mumbai local last month.
The incidents raise serious concerns over the safety of female commuters in trains, an issue that railway authorities are tirelessly trying to tackle, albeit with limited success.
Note: This article has been updated with additional information since it was first published. It earlier mentioned that the man and woman were married, which was incorrect and has been rectified.