Majority doctors across Mumbai on leave today to protest against attack on Sion Hospital physician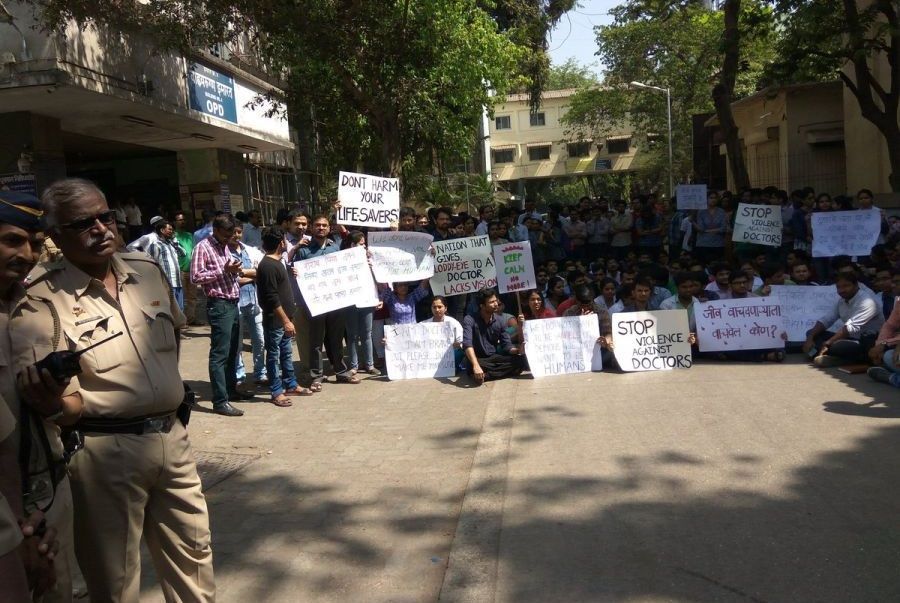 Resident doctors across the city and state have stopped reporting to duty from Sunday night to protest against the recent incidents of attacks on doctors in Dhule, Nashik and more recently in Mumbai's Sion Hospital.
On Friday, patient Rekha Singh (60) was admitted for a chronic kidney ailment at Sion Hospital. She underwent dialysis on Saturday morning, but died from fluid overload around 10 pm that night.
Around 10:30 pm, Dr. Rohit Kumar was allegedly beaten up by the deceased patient's relatives. The facility's security managed to intervene, but not before the doctor sustained injuries.
Following a complaint, police arrested three people for attacking the resident doctor.
In a letter to the Dean of Sion Hospital, Dr. Suleman Merchant, the resident doctors said they were unable to report to the duty as they couldn't "concentrate" on the work. They stopped working from 8 pm.
"The current spate of attacks on resident doctors is worrisome. We are not able to concentrate, hence we have decided not to report to the duty (at Sion Hospital). There is urgent need to beef up security at government hospitals," an office-bearer of Maharashtra Association of Resident Doctors (MARD) said.
The Bombay High Court has restrained resident doctors in the state from going on a strike till a `grievance cell' constituted by the government to look into their problems submits its report. As a result, the doctors can not go on strike officially.
However, more than 70 percent of resident doctors across the city's biggest civic hospitals like KEM Hospital, JJ Hospital, Lokmanya Tilak Municipal General Hospital and Nair Hospital have reportedly taken a 'leave' today.
A majority of Sion Hospital doctors have also not reported to work and are staging a protest within the premises. Meanwhile, the hospital's gates have been shut and there is heavy police presence in the area.
Medical Education Minister Girish Mahajan told news agency PTI, "The attacks on resident doctors are unfortunate and assailants should not be spared. We are trying to provide more security to doctors."
A similar incident took place at government hospital in Dhule last week, where a large group consisting of patient's friends and family assaulted a resident doctor after he requested them to admit the patient elsewhere citing non-availability of a neurosurgeon.
The doctor lost an eye owing to the assault and over a dozen relatives were subsequently arrested.
Doctors sitting on protest outside OPD at Sion hospital..
Patient struggles@CMOMaharashtra @drdeepaksawant @girishdmahajan
Plz intervene pic.twitter.com/of92R0YdAW

— Aman Sayyad. (@Aman_Journo) March 20, 2017