Mayor fined for parking official vehicle under no-parking sign in Vile Parle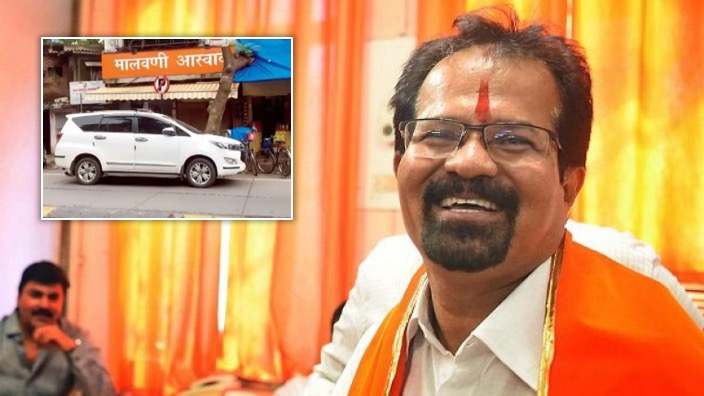 A day after media reports highlighted the blatant violation, Mumbai Traffic Police issued an e-challan for Mumbai Mayor Vishwanath Mahadeshwar's official vehicle, which was seen parked right under a no-parking sign last week.
According to officials, Mahadeshwar's vehicle was seen parked right under the BMC's no-parking signboard in Vile Parle on Saturday.
The Sena leader was visiting the Koldongari area in Vile Parle when he stopped at a popular coastal fish food joint between Andheri and Vile Parle for lunch. Since the restaurant is situated on a narrow and congested road, it has been declared a no-parking zone.
After the mayor stepped inside the eatery, the car reportedly remained parked under the no-parking sign put up by the BMC.
After media reports highlighted the violation, netizens criticised the mayor for abusing his position and lambasted the traffic police for failing to act.
Amid backlash, the traffic police took cognisance of the violation and issued a challan to the mayor's vehicle.
"I alighted the car and walked into the restaurant. I was not aware of where the driver had parked the vehicle. But I do agree that everyone is equal before the law," the mayor told Mid-Day after the violation came to light.
"Every citizen should follow rules and the mayor is no exception to it. To avoid reoccurrence of such an incident, I will instruct my staff drivers to follow all traffic rules," he added.
Incidentally, the mayor's office will likely get away with the meagre no-parking fine instead of the exorbitant Rs 10,000 penalty as the vehicle was parked in a regular no-parking zone and not one within 500-metre radius of a public parking lot.
Last week, the BMC administration implemented a new parking rule under which vehicles parked on roads outside authorised parking lots are towed and fined in the range of Rs 5,000 to Rs 10,000.
The move has received mixed reactions from the public, with some lauding the civic body for successfully clearing several choked roads, and others slamming it over the excessively harsh fine and lack of adequate parking space.