Minor fire breaks out near McDonald's outlet on Linking Road, Bandra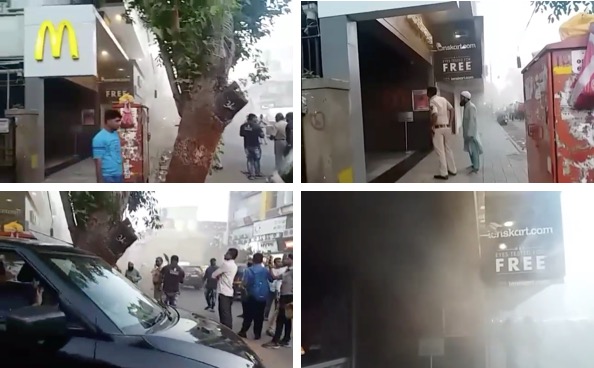 A minor fire broke out in the shop adjacent to the McDonald's outlet on Linking Road in Mumbai's Bandra area on Tuesday evening.
According to preliminary information, the blaze started around 7 pm, following which fire department and police were notified.
Two fire engines were pressed into service and the fire was brought under control after a few minutes of firefighting. A short circuit is suspected to have caused the fire, although a confirmation from the fire officials is awaited.
The establishment, which had gotten engulfed in a thick smoke cover, was evacuated following the incident and no casualties were reported.
Further details are awaited.
The Bandra outlet, incidentally, was the fast food chain's first outlet in the country. It opened in 1996.
The incident comes a day after an 18-month-old toddler died due a fire that broke out in the pump room of Shoaib Manzil on New Kandwadi Road near Carter Road, Bandra West.
Update (Official Statement from McDonalds):
"There has been a minor fire at the McDonald's building at Linking Road, Bandra which was caused by a short circuit at the adjacent store with smoke spreading towards McDonald's restaurant. As a precautionary measure, we evacuated the store to ensure none of our customers and staff came in harm's way," McDonald's said in a statement.
"As a responsible brand, we always place the safety of our customers and employees as our topmost priority and we are fully compliant with all fire safety norms. We have offered our full cooperation and support to the local authorities in this case," it added.
Edit Note: The article previously mentioned that the blaze started at McDonald's, whereas it originated in a shop next to it. The report has been edited to that effect.