MLA Nitesh Rane, aides booked for extorting Rs 10 lakh per month from owners of Estella in Juhu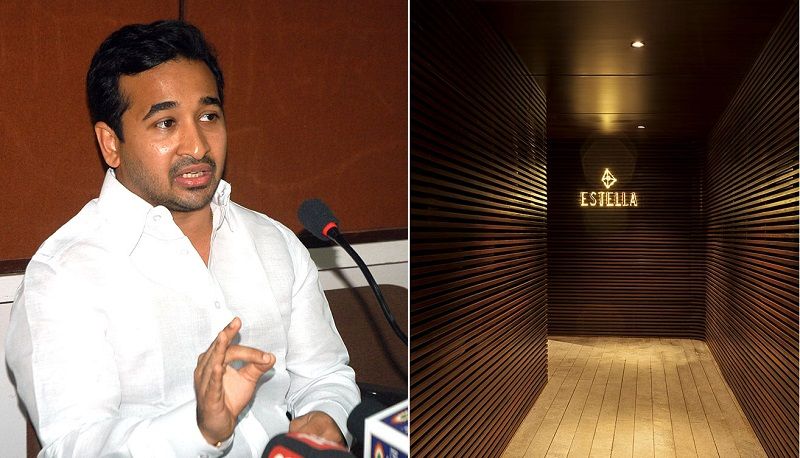 Santacruz Police have registered an extortion case against MLA Nitesh Rane, son of Congress leader Narayan Rane, and two of his accomplices on the basis of a complaint filed by the owner of Estella restaurant in Juhu.
Located at Nichani Kuttir Building on Juhu Tara Road, Estella overlooks the Juhu Beach and is one of the city's premiere lounges.
Hitesh Keswani, co-owner of Estella and the complainant, has alleged that the MLA was forcing them to make him a partner in the business since the last few months. When they refused, he started demanding money from them.
Since January, the owners have allegedly paid around Rs 10 lakh every month to Rane. However, since they were running into losses, they informed him that they would no longer be able to pay. This angered Rane and he sent two of his aides to the establishment.
In his statement to the police, the restaurant owner claimed that two men forcibly entered the premises around 10:30 pm on Thursday night. The men abused his staff, ransacked the place and tried to scare the guests away.
While the men were creating a ruckus and trying to force the establishment shut, Keswani also received a phone call from Rane.
Meanwhile, the staff alerted the police, who arrived on the spot and arrested the two men identified as Moin Shaikh (36) and Mohammad Illiyas Ansari (36).
Keswani approached Santacruz police station on Friday and filed a complaint against Rane and his aides. Cops have sought Keswani's phone records to identify the numbers from which the extortion calls were made and ascertain if they were linked to Rane.
Rashmi Karandikar, DCP and Mumbai Police Spokesperson, confirmed that a case against all three has been registered and further investigation is underway.
The trio have been booked under sections 384 (extortion), 452 (house trespassing after preparation for hurt), 323 (voluntarily causing hurt), 504 (intentional insult with intent to provoke breach of peace), and 506 (criminal intimidation) of the IPC.
When contacted by a leading daily about the complaint, Rane claimed that Keswani was a dear friend and that the incident was nothing more than a case of misunderstanding. He also claimed that the matter would be resolved by Saturday.
Incidentally, this isn't even Rane's first such run in with the law this year.
Back in January, a businessman named Rohit Kandhari had also filed a complaint against the MLA and his aides for forcing him to evacuate and hand over his Bandra office.