Mumbai cops to get high-tech body cameras to record violations, curb violence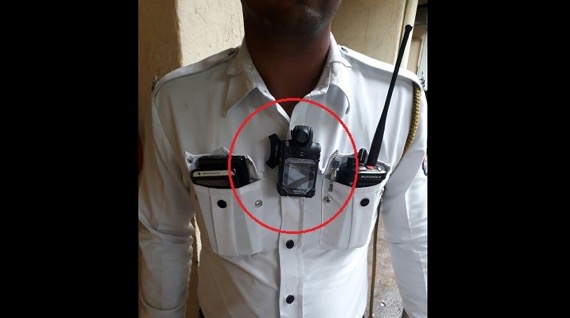 In a bid to track offences and cases of violence against law enforcement personnel, Mumbai police is set to provide high-tech 'Body Cameras' to its on field personnel soon.
Although such cameras are a common sight in developed countries like US and UK, this will be the first time traffic officials in the city will get to use them.
The state Home Department has recently invited quotations from various companies for these sophisticated cameras which the police personnel can wear on duty. They will be carried along with other equipment like walkie-talkie, challan machine etc.
"We hope to launch this on a trial basis first in Mumbai. If found successful, it may be extended to other major cities. We have invited tenders and quotations for this," a senior official, requesting anonymity, told IANS.
The cameras shall be very light-weight, virtually invisible and appear to be part of the police uniform, easy to handle and grab high-quality images or record videos under all light conditions.
They will have also have Wi-Fi, GPS and Bluetooth capabilities to quickly transmit data of various incidents to the Mumbai Police Control Room.
The state had decided to start using such cameras last year after on-duty traffic policeman Vilas Shinde was brutally attacked by a juvenile and his brother, when asked to show their vehicle documents and driving license near Bandra in August 2016.
Instead of showing the papers, the duo thrashed the 51-year old, who later succumbed to his injuries, creating a furore among traffic police personnel across the city.
"These body cameras are intended to detect and curb such incidents of attacks on police personnel, public emergencies, violence or traffic violations, besides helping their routine duties like road-blocks, law enforcement or critical and emergencies to act on it promptly," the official said.
Since everything would be recorded live, it could also serve as evidence in future disputes involving police personnel and the public, and deter law-breakers.
At present, certain categories of security enforcers at high-security zones like some airports, the Central Industrial Security Force, and Indian Railways are using 'body cameras' for discharging their duties.
Incidentally, the state government had initiated the proposal on a trial basis a few years ago but abandoned it after the 'body cameras' developed serious technical glitches.