Mumbai gets chilly as night temperature drops 4 degrees below normal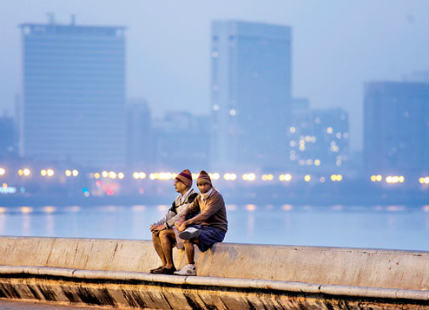 Mumbai's temperatures dropped to 18.2 degrees Celsius on Friday, thanks to a dip in night temperature, which was almost 4 degrees below normal for the start of November.
According to India Meteorological Department (IMD) data, Santacruz weather station recorded a night temperature at 18.2 degrees Celsius, which was lower than the temperatures recorded in November 2015.
It matched the lowest minimum temperature of November 2014, which was recorded at the end of the month as opposed to this year when it was recorded at the start of the month.
The Colaba weather station recorded a minimum temperature of 23 degrees Celsius, which was also one degree Celsius below normal. The maximum temperatures at Colaba and Santacruz on Friday were 33 and 32.6 degrees Celsius.
Other parts of Maharashtra, like Pune and Nashik, recorded minimum temperatures of 12 and 11 degrees Celsius respectively.
Since winds over the city are carrying cool air from the north, the temperatures are expected to stay close to minimum throughout the weekend, IMD officials say.
The lower temperature, however, has led to an increase in Mumbai's pollution levels, which rose to a 'poor' 205 air quality index (AQI) mark on Friday, according to data collected by System of Air Quality Weather Forecasting and Research (SAFAR)
In comparison, the pollution level was 'moderate' on Wednesday and Thursday. The AQI is expected to remain around 205 on Saturday.
On Friday, Navi Mumbai recorded the highest pollution level with an AQI of 309. It was followed by Malad and Andheri with AQI of 260 and 245 respectively.
According to SAFAR, AQI between 201-300 falls under the 'poor' category and 301-400 under 'very poor', which may post a health risk for people sensitive to pollutants or air pollution.
Experts say that the drop in night temperature allowed pollutants to settle closer to the city's surface, thereby increasing the AQI level. The drop in wind speed and low moisture levels further allowed pollutants to get trapped.