Mumbai received maximum rainfall on Tuesday, more in store from Friday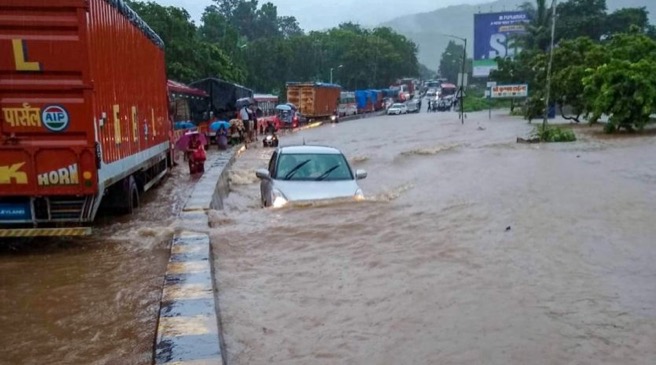 Mumbai, which saw three-digit rains for four days in a row, received the highest rainfall on Tuesday, while half a dozen districts in Maharashtra went completely dry, as per the data released by the IMD on Wednesday.
IMD's Santacruz observatory recorded 184.3 mm rainfall yesterday, against the normal of 19.4 mm, which was 850 percent higher. Colaba observatory, on the other hand, 165.8 mm rains against the normal of 17.8 mm, or 831 percent higher.
Despite these high rainfall figures, Mumbai hobbled on without any major breakdown in the suburban trains, road transportation or flight services. However, several areas were severely waterlogged, and most schools and colleges were closed.
The IMD list put adjoining Raigad next, with a rainfall of 124.4 against the normal of 33.2, or 275 percent higher.
Palghar, which saw at least two deaths, recorded 100.1 mm rainfall, against the normal of 32.3 mm or 210 percent higher. Although, the heavy flooding in various parts which threw the entire Western Railway suburban and long-distance services out of gear.
Thane, which witnessed heavy dislocation came third, with 94.7 mm rains against the average normal of 31.6 mm, or 200 percent higher.
While districts like Gadchiroli (45.8 mm), Yavatmal (40.3 mm) and Ratnagiri (36.2 mm) saw higher than average rainfall, areas like Ahmednagar, Dhule, Nandurbar, Aurangabad, Jalna, Osmanabad remained dry with no rainfall.
The lowest rains were recorded in Parbhani (0.1 mm), Beed and Latur (0.5 mm each), Sangli (1.0 mm), Nashik (1.2 mm), Solapur (1.3 mm), and Hingoli with (1.8 mm).
After the rains halted and the flood-waters receded overnight, Mumbai limped back to normalcy after a four-day fury that hit the commuters, railways, road transport and flight operations.
A WR official said that long-distance and suburban services on the Virar-Vasai sector, which had completely collapsed on Tuesday, resumed with speed restrictions, though the tracks continued to be waterlogged.
Mumbaikars, meanwhile, have barely two days of respite in sight as rainfall activity is expected to pick up again from July 13.
"It will rain for the next 3-4 days in Mumbai and Konkan region but the intensity will decrease and on July 13-14 intensity might go up," said Charan Singh from the MET department.
Mumbai rainfall forecast:
July 13: Heavy rainfall very likely at a few places with very heavy rainfall at isolated places.
July 14: Heavy rainfall very likely at a few places with very heavy to extremely heavy rainfall at isolated places.
July 15: Heavy rainfall very likely at a few places with very heavy to extremely heavy rainfall at isolated places.
While citizens are advised to exercise due caution for the next few days, officials say there is no need to panic as the rainfall will be of lesser intensity compared that of the last four days.