Video: New four-wheeler auto rickshaw spotted in Mumbai, among city's first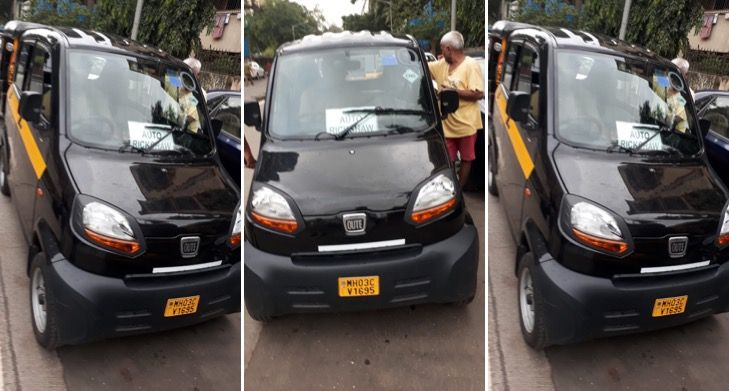 Pictures of the newly introduced four-wheeler auto rickshaw, which is likely among the first ones in Mumbai, are going viral on social media.
Bajaj Auto launched the country's first quadricycle 'Qute' in Maharashtra in April this year, with prices ranging from Rs 2.48 lakh for the petrol variant to Rs 2.78 lakh for the CNG option. The vehicle is touted to replace the existing three-wheeler autos.
Within days of launch, Sanjay Bhupendra Bhai Bhatt, an auto driver from Vasai, got the necessary clearance from the Regional Transport Office (RTO) and became the first owner of a Qute auto in the metropolitan region.
While Bhatt has been ferrying passengers since May 23, pictures of the Mumbai-registered Qute auto only started making rounds on Wednesday. The auto, owned by Nitin Bhalekar, was registered at the Wadala RTO just last month.
In one of the videos being circulated, a group of curious-looking auto drivers can be seen inspecting the auto from all angles. The video ends with a female passenger hailing a ride.
Compared to the existing autos, the four-wheeled Qute is less prone to overturning and promises far better passenger safety, a development the commuters have been quick to acknowledge.
"I'm happy to see this new option. I am sure the additional wheel will go a long way in keeping the vehicle stable during sharp turns and make the rider safer for passengers," said Sudhir Awasthi, who takes an auto from Andheri station to his office daily.
The Qute can seat three passengers (one front, two back) in moderate comfort and its closed enclosure bodes well for the city's pothole-ridden roads, especially during monsoon. It also boasts of luggage carrying capacity of 20 kgs.
"Waiting to take a ride in this one. I am sure it will be a lot more comfortable for someone my size. Hoping its suspension is adjusted for our roads," Harish S wrote on Facebook.
Although details regarding the exact number of Qute autos registered across city RTOs is awaited, commuters should note that the fare structure for the four-wheeled auto is the same as its three-wheeled counterpart.
About Bajaj Qute
The Qute is a purpose-built vehicle for intra-city travel that can be used for both personal and commercial purposes. It is 2,752mm long, 1,312mm wide and sits 1,652 mm high. With a kerb weight of just 415 kg, the Qute can reach a maximum speed of 70 kmph.
It comes in petrol and CNG variants, both of which have the same 216.6 cc, four-stroke, twin spark ignition, single-cylinder, liquid-cooled engine mated to a 5-speed manual transmission.
The company has claimed a mileage figure of 35 km/l for the petrol variant (8-litre tank) and 43 km/kg for the CNG variant (35-litre cylinder), which is the de-facto choice for autos.
Bajaj exports the Qute to over 30 countries across Asia, Africa, Latin America, and Europe. In April, Maharashtra became the sixth state in the country where the quadricycle was launched after Kerala, Gujarat, Odisha, Uttar Pradesh, and Rajasthan.