Its official: No helmet, no petrol to bikers in Mumbai from August 1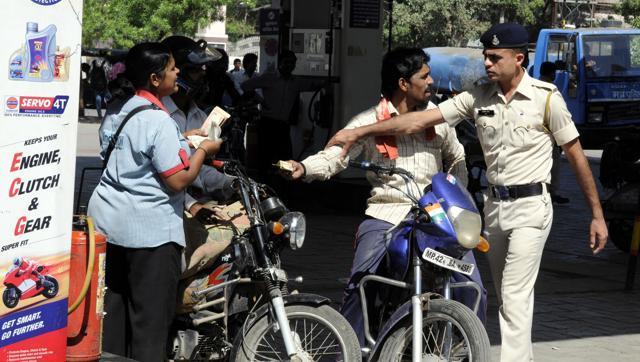 On Thursday, the state government informed the Legislative Assembly that helmet-less bikers will not be allowed to buy fuel from any petrol pump in Maharashtra.
State Transport Minister Diwakar Raote told the House that the decision has been taken to promote safety on roads. "Supplying fuel to riders not wearing helmets is seen as encouraging riding without helmets," Raote said in a statement.
The minister's announcement came after the Mumbai police decided to implement the 'No Helmet, No Petrol' policy earlier this month. Mumbai Metropolitan Region (MMR) traffic department is set to launch a new campaign, along with petrol pump associations, to urge motorists to wear helmets.
Concerned over the increasing number of road accidents involving two-wheelers, the police tied up with petrol dealers and associations to ensure that helmet-less motorcyclists produce the safety gear before they are allowed to refuel their vehicles at any petrol pump in the city.
They asked the petrol pump association not to supply fuel to bikers without helmet starting August 1.
While talking about the campaign to a leading daily, traffic commissioner Sunil Paraskar had said, "Motorcycle-related accidents result in many fatalities every year. In most of these accidents, people suffer serious head injuries that can be prevented by wearing helmets. We decided to conduct a campaign at petrol pumps as every motorcyclist needs to go there to refuel. We can reach out to maximum motorcyclists in the city in this way."
After making helmet compulsory for pillion-riders two months ago, Mumbai police has taken this initiative to ensure riders do not avoid helmets.