Pics: CR ready to introduce 'aquarium' themed ladies coach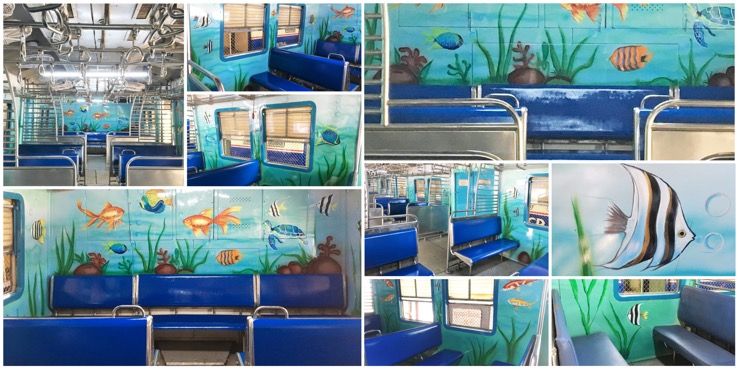 Less than two weeks after Central Railway (CR) introduced its first redesigned ladies coach, the division has unveiled its next work of art – an 'aquarium' themed interior of a Mumbai local.
The second coach was also painted at the Matunga workshop.
"Matunga workshop has taken another step towards the improvement of passenger experience on Indian Railways," CR said in a statement.
"With a view to give a pleasant and refreshing change to the passengers daily commuting with the suburban EMU trains of Central Railway, the workshop has painted the second Siemens – Electric EMU coach number 2049A FRP panels on the side and end walls of the interior with nature theme on an experimental basis," it added.
The artwork, depicting an underwater world complete with marine life and aquatic plants, was done by the same team that had revamped the first coach.
"The paintings have been done by trade apprentice Chandu Aguru and Amol Dabhade of Matunga Workshop," CR said.
CR CPRO Sunil Udasi added that the coaches will be turned out tonight.
Back in August, CR had unveiled the first redesigned coach based on the 'nature' theme, sporting fine artwork and brightly-coloured interiors.
Pictures: