In Pics: Olive Ridley turtles spotted at Versova beach after 20 years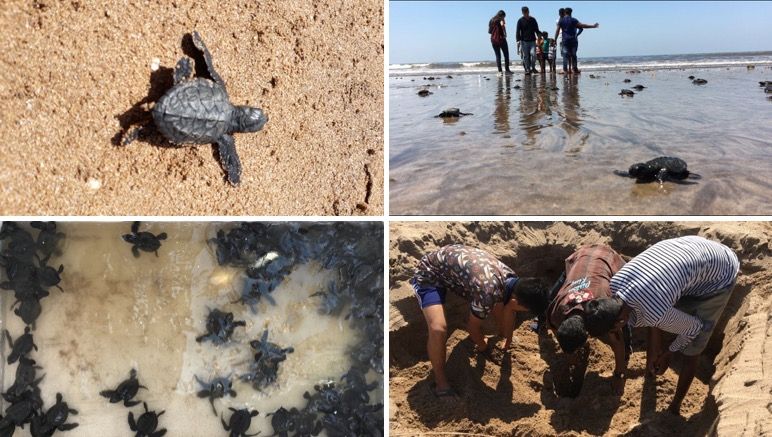 For the first time in over 20 years, around 80 hatchlings of Olive Ridley turtles were spotted by volunteers at Mumbai's Versova beach on Thursday morning.
A group of volunteers engaged in a clean-up of the Versova beach here stumbled upon the sight of Olive Ridley hatchlings on the beach. They called forest officials and ensured the turtles walked into the sea without any hindrance.
Mumbai-based lawyer and environmentalist Afroz Shah, who initiated the beach clean-up drive in 2015, was present when the group noticed the hatchlings.
"We were told by officials that the last such sighting of Olive Ridley turtles on the beach was 20 years ago," Shah told PTI. Shah and his team have been trying to clean and restore the beach since 127 weeks.
"Earlier, this beach was very dirty. No sea turtles were hatching here as piles of garbage posed a big problem. But now, thanks to the Clean Versova Beach drive, we are all happy and blessed to have seen these newly hatched Olive ridley turtles," Shah added.
N Vasudevan, additional principal chief conservator of forests, said, "We haven't noticed any nesting of turtles on Versova beach in the last several years. They normally lay eggs at places they feel safe and secure."
The forest official said there was a possibility that adult female tortoises came back to nest at the place they were born.
"In Maharashtra, we keep noticing sporadic nesting of Olive Ridley turtles, including on the Ratnagiri, Raigad and Palghar coast," Vasudevan told PTI.
Shah described the news as "fantastic and a historic moment for Mumbai".
"The turtles nested and hatched at our beach. We facilitated their journey to the sea," he said, adding, that "constant cleaning of the beach helps marine species."
A volunteer, who was present at the Versova beach this morning, said, "I have witnessed something surreal today. A life changing experience. Eighty Olive Ridley turtles walking back to the sea."
The return of the turtles has also brought cheer to marine biologists who had earlier claimed that almost 90 percent beaches in Maharashtra have been damaged to the extent that they have become unfavourable for Olive Ridley turtles to lay their eggs.
In July last year, an adult Olive Ridley turtle was rescued from Juhu beach in suburban Mumbai. Animal activists had rushed the turtle to a local vet clinic.
The Olive Ridley sea turtle (scientific name: Lepidochelys olivacea), also known as the Pacific Ridley sea turtle, is a medium-size species of sea turtle found in warm and tropical waters, primarily in the Pacific and Indian Oceans.
Olive Riddley Sea Turtle Hatchlings Found in Mumbai. Helped the Forest Department in Releasing them , Some locals had kept few as pets. I Sensitized & Explained them this species Cannot survive in fresh Water & 5 baby Turtles were Rescued & Released Safely In Presence of Every1 pic.twitter.com/zgmQrYvHPo

— Ankit Vyas (@AnkitVyas55555) March 22, 2018
With agency inputs