Pictures of Mumbai's first AC bus stop in Prabhadevi go viral, despite the fact they're not real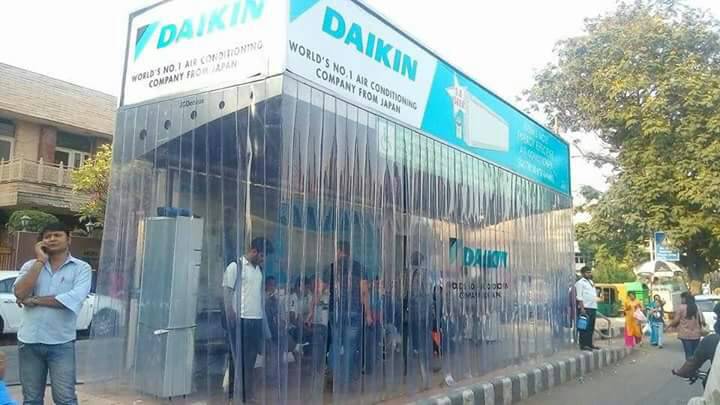 Pictures of Mumbai's first AC bus stop, seemingly located in Prabhadevi, are going viral on the internet thanks to overzealous netizens who have ecstatically shared it on WhatsApp and social media over the weekend.
The images, which have made their way on instant messaging apps and social media platforms like Twitter and Facebook, show a bunch of people waiting at a bus stop covered with transparent plastic curtains and a large AC unit installed inside.
One of the messages circulating on WhatsApp, for example, reads, "India's first air conditioned bus stop at Siddhivinayak Prabhadevi (Maharashtra)".
While the images are indeed of a first of it's kind AC bus stop in India, it is located hundreds of kilometers away from Mumbai at the Ring Road in New Delhi's Lajpat Nagar area.
The unit was gifted by Japanese air-conditioner manufacturer Daikin as apart of a unique marketing campaign. The multinational had tied with up with the private agency which owned the advertising rights of Delhi Transport Corporation's bus stands.
The initiative garnered a lot of publicity due to its timing and practicality. The bus stop itself was unveiled last week, while the capital was witnessing temperatures of well over 40 degrees Celsius. As a result, it was also praised by netizens on social media.
Meanwhile, due to the nature of viral content on the internet, the fake image of Mumbai's first AC bus stop is spreading faster than it is being debunked; the presence of a green coloured rickshaw and a row house in the background notwithstanding.