In Pictures: Mumbai's first rains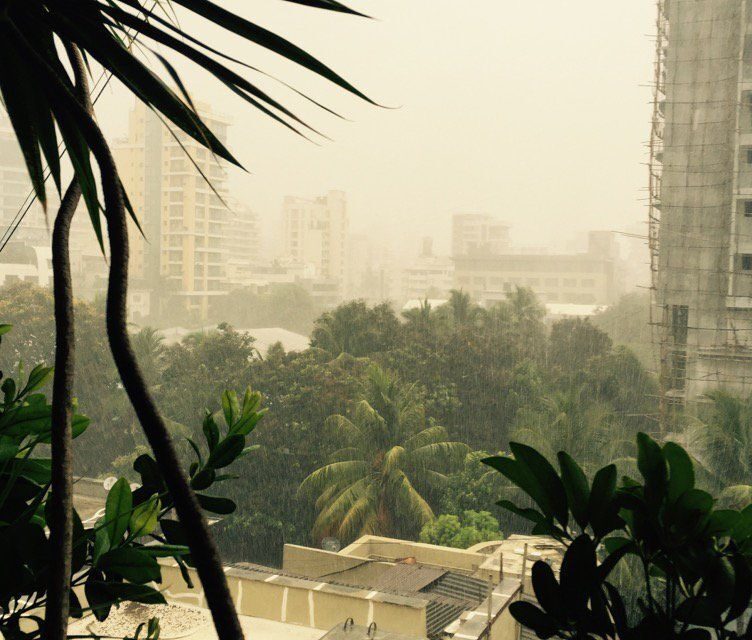 The wait is finally over.
On a lazy Saturday, the city witnessed its first 'proper' showers of the season. Mumbai, for the inundated, exudes a rather rather different vibe during the monsoon. The slight dip in the soaring temperature is also a welcome change.
According to a Skymet Weather report, the cyclonic circulation from the Arabian Sea off Karnataka and Goa coast has shifted slightly northwards along the coast and led to the development of a convective clouds over South Mumbai, leading to rain and thundershowers.
Skymet has also predicted that another spell of rain is likely over the city again during the late afternoon or evening. Rains are also expected to continue over the next 24-48 hour period with increasing intensity.
But, enough talking about the weather.
In the morning, a happy, and a few disgruntled, bunch of Mumbaikars took to Twitter to share pictures of the Mumbai's first showers. Here's the best of the lot:
#MumbaiRains should stay for long and for good pic.twitter.com/Ju0I7zLD2b

— Raahul Salunke (@raulsalunkebpc) June 11, 2016
Song of the day:

"It's raining, it's pouring
A black sky is falling" ☁☔☁#AboveandBeyond #MumbaiRains pic.twitter.com/70IE5R5tAG

— Arun Yedery (@andyyrao) June 11, 2016
🙂 Wow #MumbaiRains!
Flying to #Varanasi then drive down to #Allahabad.#JanMan begins this Monday @ABPnewsTV pic.twitter.com/I8AEbdzf4i

— Dibang (@dibang) June 11, 2016
Welcome!!! ????☔ #MumbaiRains pic.twitter.com/z03SY6IjP6

— Vinayak Belanekar (@vinayakbelanekr) June 11, 2016
Finally it's here!! #MumbaiRains pic.twitter.com/LqMbAdYk26

— Rhiju Bhowmick (@Rhiju) June 11, 2016
There are many things I love about Mumbai. One of them is this.#Mumbairains #firstrain #… https://t.co/3wIaJklGBD pic.twitter.com/0n7A9AVmCv

— Cul(inary)ture (@culinrycultblog) June 11, 2016
Ohh It Feels so heavenly waking up to the❤️ First Drop of Rain ?? and that Pleasant Smell of Soil!?? #MumbaiRains ? pic.twitter.com/3FEQeMHjt5

— Akshay (@Akshay_gudekar) June 11, 2016
It's #SuperSaturday as #MumbaiRains starts, Monsoon starts! Major relief ? pic.twitter.com/z9YJwfrTa5

— Pratik Mohite (@pratik_mohite) June 11, 2016
Kiddo welcoming rains!!! #MumbaiRains pic.twitter.com/epIuOZvCwn

— zalak bhavsar (@andzalak) June 11, 2016
1st Rains in Mumbai and water logging problem is already up! #MumbaiRains pic.twitter.com/o0SB3cgBLK

— Prasad Lakade (@prasadlakade) June 11, 2016
A time to sing Varuna Gayatri in Mumbai.
May rain God bless farming fields & bring, money & happiness to farmers. pic.twitter.com/RkrvaN9cXB

— Bhaav (@ibhaav) June 11, 2016
Welcome Mumbai Monsoon #MumbaiRains ? pic.twitter.com/NpAbBCQrHo

— ★NJ21★ (@jangidnitin) June 11, 2016
#MumbaiRains have arrived
Sea link #Mumbai #incredibleindia@panjami @krishnvijay @Sunita_Says_ @pulsezx @maria_mfed pic.twitter.com/W0xRECaktE

— Sailesh (@saileshvora55) June 11, 2016
First day of Monsoon in Mumbai pic.twitter.com/4Fk9Ql3he5

— Sangeeta Desai (@SangeetDesai) June 11, 2016
My Love, Mumbai #MumbaiRains #Mumbai #Mumbaimerijaan pic.twitter.com/lYMih3mgYV

— Prashant Dumbre (@PrashhGalaxy) June 11, 2016
As you can see, this one's not from this year. But it definitely deserves a mention!
A rainy day in the Bombay of 1970s
Photo by Pablo Bartholomew#mumbairains #Mumbai pic.twitter.com/s6NcyVQeDe

— Mumbai Heritage (@mumbaiheritage) June 11, 2016