Public toilet collapses in Bhandup: 2 dead, more trapped in debris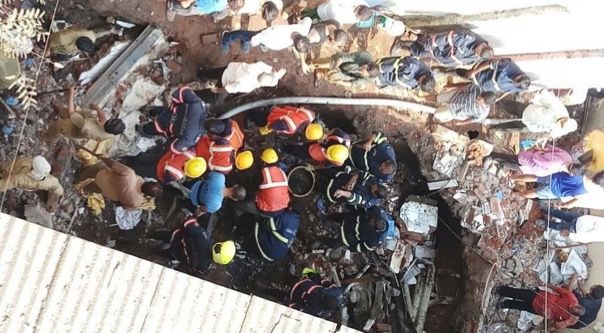 At least two persons died after a large portion of a public toilet collapsed in Mumbai's Bhandup area on Saturday morning.
The incident took place around 6 am in Patilwadi on Tank Road near Sai Sadan Chawl in Bhandup East. The area is in the vicinity of Shivaji Lake.
According to preliminary information, the entire structure collapsed on its own accord, leaving a massive hole in its wake. At least four persons, two men and two women, were believed to be trapped under the debris.
Locals immediately alerted authorities, following which local police, officials from the BMC's disaster management unit and fire department reached the spot.
After some strenuous efforts, officials from the fire department managed to remove two bodies, a man and a woman, from the debris. The deceased were reportedly identified as Babulal and Nagubai. Their bodies are being sent to a nearby hospital.
Meanwhile, National Disaster Response Force (NDRF) has also reached the spot and working on removing others trapped inside the collapsed structure.
The exact reason for the structure's collapse is unknown as of publishing this report, although locals allege that it might have been due to shoddy construction work. The claim, however, could not be independently verified.
Details about the other victims and their present condition are awaited.
Note: This report will be updated with additional information as it becomes available.