After Nirav Modi's effigy in Worli, another SoBo society to burn 'hookah' for Holika Dahan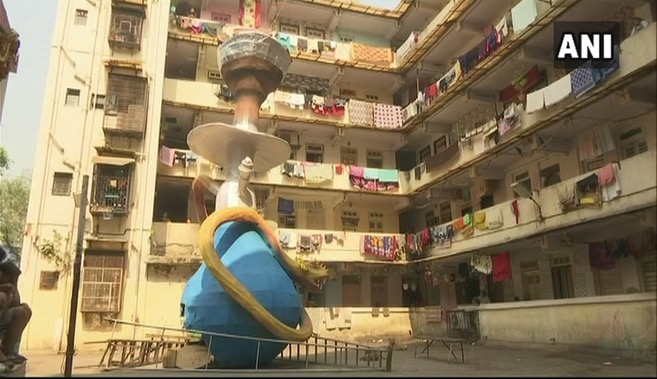 Apart from residents of Worli's BDD chawl, who will be burning an effigy of PNB scam accused Nirav Modi for Holika Dahan tonight, the members of a housing society Grant Road will also mark the occasion by burning a massive replica of a 'hookah'.
The residents of Panchsheel Society in Grant Road have erected the structure in the middle of their compound ground.
The near 20 feet tall structure depicts a hookah pot with a snake wrapped around its body, instead of a pipe, with a message "Hookah has burnt Kamala Mills and will burn you too".
"In this year's Holi, I want to convey a message that we should not consume hookah as it has caused the fire in Kamala Mills, which took several lives and it is too harmful for our health," the structure's curator Sumit Pendharkar told ANI.
Back in January, both Mumbai Fire Brigade and BMC blamed flying embers from lighted charcoal used in hookah at the Mojo's Bistro restuarant for the Kamala Mills blaze, in which 14 people were killed.
Many citizens, activists and political leaders – including Mumbai Mayor Vishwanath Mahadeshwar – sought a complete ban on hookah parlours operating the city in the wake of the incident.
The impending ban may come into effect over the course of new few weeks. The civic body, meanwhile, has taken action against hundreds of illegal parlours.
Like Panchsheel Society, residents of BDD chawl in Worli have also erected an effigy of billionaire Nirav Modi – the alleged mastermind of a near $2 billion PNB fraud case – which will be burnt down tonight.
Around 20 youngsters, all members of Members of the Vighnaharta Sarvajanik Ganeshotsav Mandal, worked on the near 60 feet tall effigy for a fortnight. The residents will burn the effigy during the Holika Dahan ceremony later today.
The residents of Worli's BDD chawl number 76/77 were earlier planning to erect an effigy to highlight the issue of sexual harassment. However, the PNB scam news broke out before work begun, which prompted them to take up the scam issue instead.
The effigy depicts Nirav sitting on a diamond-shaped chair, with the words 'PNB ghotala (scam) diamond king' inscribed below.
The residents, considering the environmental factor, have made the giant structure by using less wood and more of dry grass. The have also claimed that it is the highest Holi replica in India this year.