Rail Budget for Mumbai: MUTP gets 579 crore, other key allocations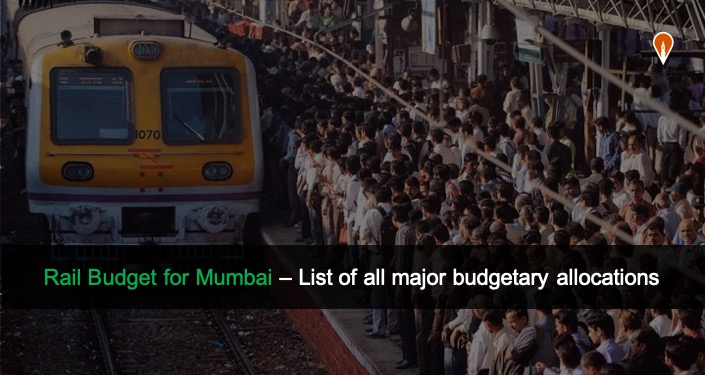 The Centre did not announce any new projects for the city's suburban network in its interim budget but allocated Rs 579 crore for the expedition of several key railway projects in the city.
The interim budget presented by finance minister Piyush Goyal has allotted Rs 7,672 crore for the Central Railway in total, of which Rs 744 crore is for various transport projects.
It will cover the Belapur-Seawood-Uran railway line, 3rd line between Kalyan-Kasara and Panvel Terminus projects in the Mumbai region.
For the Western Railway, the budget has proposed an allocation of Rs 6,128 crore to execute various existing projects.
For Mumbai, these projects include construction of a second terminal at suburban Jogeshwari, bringing in 15-car local rakes and improvement in passenger amenities.
Further, a provision of Rs 579 crore has been made for various phases of the Mumbai Urban Transport Project (MUTP).
Mumbai Rail Vikas Corporation (MRVC), a joint venture of the Railway ministry and the Maharashtra government, executes railway projects in the metropolis. It's chairman and managing director R S Khurana called the Centre's allocation "adequate".
The Rs 579 crore allocation will be used to execute projects under the MUTP phase 2, phase 3 and phase 3A. The total allocation, however, will double as the same amount will also be contributed by the state government.
CR officials also expressed hope that they will not face a fund crunch. Chief PRO of Central Railway Sunil Udasi said, "Like the past few years, we have got sufficient allocations. We will continue executing various projects as per target."
Western Railway chief spokesperson Ravinder Bhakar said, "With the funds earmarked, we will be able to carry out different works such those related to tracking renewal, bridge safety, Integrated Security System, signalling and telecommunication.
MUTP Breakdown:
MUTP-2
Allocation:
Rs 245 crore
Major Projects:
5th and 6th line between Thane and Diva, 5th and 6th line between Kurla and CSMT and 6th line between Mumbai Central and Borivali. These additional lines are meant to segregate suburban trains from long distance ones.
Status:
All three projects have been under construction for over a decade.
MUTP-3
Allocation:
Rs 284 crore
Major Projects:
Quadrupling of Virar-Dahanu line, Panvel-Karjat suburban line, procurement of 47 air-conditioned locals and Kalwa-Airoli elevated corridor.
Status:
Most projects are in the planning and execution stages.
MUPT-3A
Allocation:
Rs 50 crore
Major Projects:
Fast elevated corridor between CSMT Mumbai-Panvel, a new suburban corridor between Panvel-Virar, procurement of 150 air-conditioned rakes, extension of the Harbour Line from Goregaon to Borivali, construction of 5th and 6th line between Borivali and Virar, 4th line between Kalyan-Asangaon and 3rd and 4th line between Kalyan and Badlapur
Status:
The projects under MUTP-3A are under final consideration and work will begin as soon as they are sanctioned by the Union Cabinet.
Apart from MUTP, several major budgetary allocations were made for divisions catering to MMR.
Allocations for CR, WR
* Rs 160 crore for 3rd line on Kalyan-Kasara section.
* Rs 153 crore for Belapur-Seawood-Uran railway line.
* Rs 89 crore for Panvel Coaching Terminus.
* Rs 36 crore for construction of boundary wall near stations on WR (Rs 26 crore) and CR (Rs 10 crore) to prevent encroachment.
* Rs 20 crore allotted for upgrading security system at 32 suburban WR stations.
* Rs 18 crore for re-girding of colonial-era bridges at Dadar, Elphinstone Road, Mumbai Central, Mahalaxmi, and Grant Road stations.
* Rs 12 crore allotted for converting suburban locals into 15-coach ones.
* Rs 10 crore for 3rd line between Kalyan-Kasara.
* Rs 5 crore for new FOBs (without escalators) Mahalakshmi, Grant Road, Mahim, Vile Parle, Jogeshwari, Borivli, Dahisar and Vasai Road stations.
* Rs 4.14 crore for the replacement of 337 automatic ticket-vending machines (ATVMs) and other equipment on CR.
* Rs 1 crore for automatic signalling project on Vasai-Diva-Panvel section.