School bus driver, who was using bamboo as gear stick, rams into BMW at Khar; arrested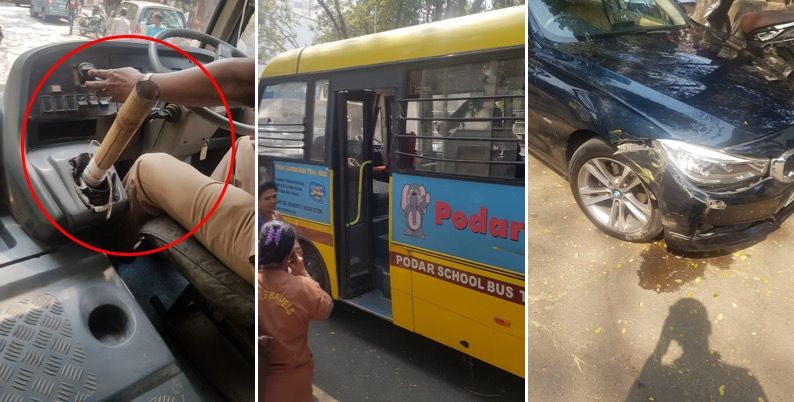 A school bus driver's hack of using a bamboo stick as a gear lever cost him dearly after he rammed into a BMW car and got himself arrested.
Raj Kumar, a bus driver for Podar International School, was on his way to the school on Tuesday morning when he rammed into a BMW near Madhu Park in Khar West.
Following the mishap, the owner of the BMW, a businessman from Khar, confronted Kumar about the damage to his vehicle.
While Kumar blamed it on a technical problem with the bus' steering wheel, the car owner noticed that the gear level had been replaced with a bamboo stick.
"The car owner checked the gear shaft and noticed a piece of bamboo being used as gear stick. He then informed the police about the accident," an official told Mumbai Mirror.
Till the cops arrived, the businessman took photographs of the makeshift gear stick.
"The beat marshals were sent to the spot to examine the bus. They too noticed the bamboo on the gear shaft. When questioned, the driver told the officials that the gear knob had broken a few days ago and that he was using the bamboo stick for the past two to three days," the official added.
Although none of the students sustained any injuries in the mishap, police detained Kumar and took him to the police station.
After the BMW owner filed an official complaint, the bus driver was booked for rash driving and endangering the lives of the school kids. The 22-year-old was later released on bail.
Podar International School authorities, meanwhile, expressed shock over the incident and launched a probe into the incident.
"The school is shocked to learn about the bus incident that took place February 5. All the students in the bus are completely safe. The school along with the school transport committee are investigating the incident and will fully cooperate with the authorities," the school said in a statement.
"A complete audit is also immediately being carried out of all the school buses. The school will once again conduct a thorough training of all transport contractor drivers and staff to ensure such incidents are not repeated," the statement read.
Video: