Shah Rukh Khan lends support to Bandra Bandstand beautification project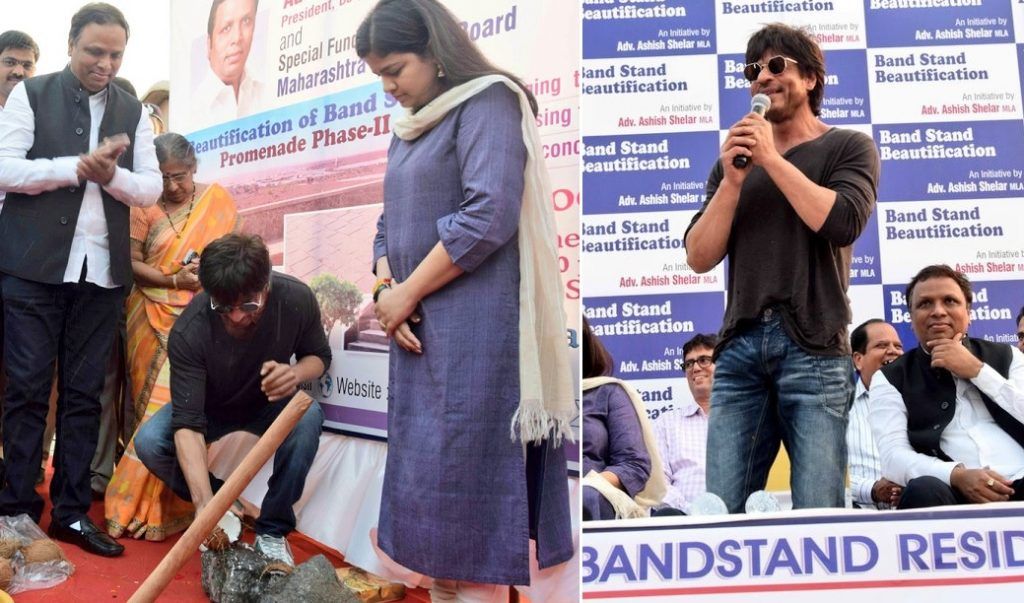 Bollywood superstar Shahrukh Khan, who recently returned to the country, was spotted lending support to the Bandstand Beautification Project on Wednesday. The actor was shooting abroad for Imtiaz Ali's 'The Ring' earlier this month.
Bandra MLA Ashish Shelar and MP Poonam Mahajan were also present at the event.
The beautification project entails the overhaul of the Bandstand promenade, which is already frequented by thousands of locals and tourists.
SRK's bungalow 'Mannat' is located on the opposite side of the promenade.
Amid the cheering of the crowds, Khan said: "I would like to thank all who are associated with this wonderful project. The moment I came here, the first thought came to my mind is 'Saare Jahan se achaa Bandstand hamara' (Bandstand is better than the entire world). I've been living in this area for the last 17 years."
"Fifteen years ago, the drive was started by all the organisations with the help of BMC to make the coastal regions beautiful. That time the road was rocky. In the first phase, the place was beautified and now in the second phase it will become a tourist spot," he added.
SRK graciously entertained the hundreds that had gathered for the event by enacting some dialogues from his upcoming film 'Raees'.
The film is based on Abdul Latif's life, an underworld figure in Gujarat and an associate of Dawood Ibrahim. Directed by Rahul Dholakia, it also stars Mahira Khan and Nawazuddin Siddiqui.
The film ran into trouble earlier when political party MNS threatened to protest against its theatrical release for casting a Pakistani actress. The Raj Thackeray-led party has since then withdrawn their objection and the film is set for an unopposed release.
'Raees' is scheduled to release on January 26, 2017.
Besides, SRK will be seen in 'The Ring', written, directed and co-produced by Imtiaz Ali. It features Shahrukh Khan, Anushka Sharma and Evelyn Sharma in the lead roles.