Sharad Pawar's brand of politics 'dangerous' for Maharashtra: Shiv Sena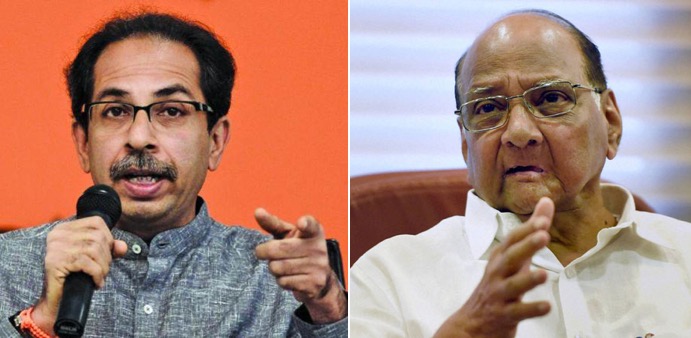 In a scathing attack on NCP chief Sharad Pawar, the Shiv Sena on Wednesday said his politics was "dangerous" for Maharashtra and alleged that it was disrupting the harmony in society.
It does not befit a former chief minister to pose hurdles in the police probe in the Bhima-Koregaon violence, the Sena said, while questioning who Pawar was trying to save by pointing fingers at the probe into the incident.
After the Pune Police recently arrested five people in connection with the January 1 caste violence at Bhima-Koregaon in that district, Pawar alleged that the government was branding some "progressive" people as "Naxalites" for organising the 'Elgar Parishad'.
Citing instances of recent violence at some places in Uttar Pradesh, the Sena cautioned that attempts were being made to communally polarise Maharashtra as well.
"Sharad Pawar's politics is dangerous for the state," it said in an editorial in party mouthpiece 'Saamana'.
The Sena sought to know if Pawar, Bharipa Bahujan Mahasangh leader Prakash Ambedkar and others had taken it upon themselves to mislead the course of the investigation into the Bhima-Koregaon incident.
"On what grounds does Sharad Pawar say that those caught by the police for instigating riots in Bhima-Koregaon did not actually do so?" the Marathi daily asked.
It does not befit Pawar, who had served as the chief minister of Maharashtra multiple times, to create obstacles in path of the police and question its investigation, it said.
"Who is Pawar trying to save by saying the police has caught the wrong people?" it further asked.
"When Maharashtra was burning due to the Bhima- Koregaon incident, Pawar, instead of coming in front of cameras and asking people to maintain peace, created a delusion that Hindutva organisations were behind it," it said.
Pawar was expected to come on the streets and calm down people, the publication said.
"What Pawar does is his outlook. However, his politics is disrupting the harmony of society," the Sena said.
---
Related: Will gladly work on uniting opposition parties to take down BJP, says Sharad Pawar
---
On June 10, at a function marking the NCP's 19th anniversary and culmination of the party's "hallabol" campaign in Pune, Pawar had said, "Some progressive people in Pune came together and organised the Elgar Parishad. Now, the government is arresting some of them and branding them Naxalites."
"Everyone knows who were behind the Bhima-Koregaon (violence) but instead of arresting them, those who have no connection, have been arrested and this is called the misuse of power," the former Union minister had said.
With agency inputs