Day 4: Fresh attacks on doctors at Sion & Bhabha hospital, strike continues as talks fail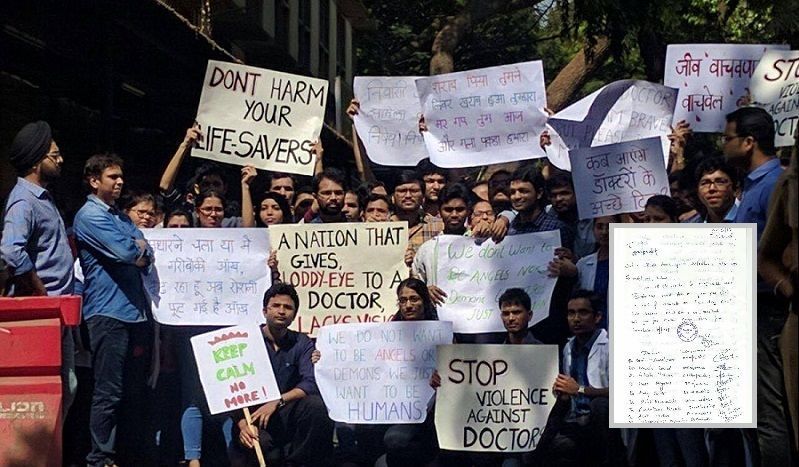 Even as doctors across Mumbai and Maharashtra were considering ending the agitation on Wednesday, two more attacks on doctors in Mumbai – at Sion and Bhabha hospitals – have added fuel to the fire and led them to continue their strike.
More attacks:
The statewide strike started on Monday after four incidents of attacks on doctors came to light last week. After yesterday's attacks, six such cases have taken place in the last ten days.
In the recent case, a female doctor was reportedly assaulted at Sion Hospital on Wednesday night. It was the second such incident at the hospital in the past four days.
A police complaint in the regard has been registered against three women, who allegedly assaulted the senior pediatric.
In the second case, an on-duty Chief Medical Officer (CMO) at Bhabha Hospital was slapped by a patient's relative around 3 am last night. The CMO, Dr Vasant, was attacked right in front of the casualty ward gate at the hospital's premises in Bandra.
While it is not clear if a complaint in the matter has been registered till now, resident doctors wrote to the hospital authorities during the wee hours and informed them about their decision to go on mass leave from 4 am on March 23.
Protest intensifies:
The doctors strike in Maharashtra has struck the capital city of the state as about 40,000 doctors in the city are going on a mass leave, shutting down the medical services at about 40 hospitals all together on Thursday.
The doctors affiliated with Indian Medical Association (IMA) and resident doctors from Delhi have also lent their support to the protest.
Reportedly, IMA has also urged other medical associations like Indian Academy of Paediatricians and Federation of Obstetric and Gynaecological Societies of India among others to join the strike from Thursday.
In addition, an online petition addressed to Prime Minister Narendra Modi seeking action against people assaulting doctors has received over 80,000 signatures as of writing this.
Action against striking doctors:
On Wednesday, Brihanmumbai Municipal Corporation (BMC) had served show cause notices to as many as 1,200 doctors from the city for abstaining from work.
Following which, JJ Hospital has initiated expulsion process of the doctors striking over recent incidents of assault against them. The dean of Government Medical College in Nagpur has suspended 301 resident doctors on this issue.
Doctors from Sion and KEM Hospital doctors were also served eviction notices and asked to vacate their hostels. Another 114 resident doctors in Solapur have been suspended for failing to resume work. 250 doctors in Pune have also been served notices.
An estimated 4,000 doctors in Maharashtra have been protesting since Monday, demanding better security at hospitals with the increase in incidents of attacks by patients' relatives.
While senior doctors haven't explicitly supported the mass leave, many have come out and spoken about the government and civic body's failure to provide security to doctors.
Talks fail:
To make matters worse, talks between State Education Minister Girish Mahajan and resident doctors at Vidhan Bhavan on Wednesday failed to produce any result.
After the meet, Mahajan said doctors would end their protest and resume work from Thursday. "1,100 trained security guards will be deployed at all government hospitals within 15 days; Rs 33 crore for this has been sanctioned," he was quoted saying.
The doctors, however, refuted the minister's claim and decided to continue with their agitation following the fresh attacks on doctors at Sion and Bhabha hospital.
Meanwhile, Emergency ward and Out Patient Department (OPD) have been affected the most by the ongoing strike.
Court to hear matter today:
The Bombay High Court earlier on Tuesday ordered Maharashtra's resident doctors to resume work immediately or face action by the management.
The court has specifically said that the hospital management is free to initiate action and contempt proceedings against the doctors on strike.
While asking them to resume their duties immediately, the High Court on Tuesday said that it will hear the junior doctors' mass leave issue today.
The state government has told the court that medical services in Maharashtra were paralysed because 60 percent of the resident doctors across the state went on strike.
The court even directed the Maharashtra Association of Resident Doctors (MARD) to ask all doctors to resume their duties. While MARD complied with the orders, it said the doctors are continuing their protest in their individual capacity.