Slab falls off Andheri station ceiling: 2 injured, offered 500 as 'compensation'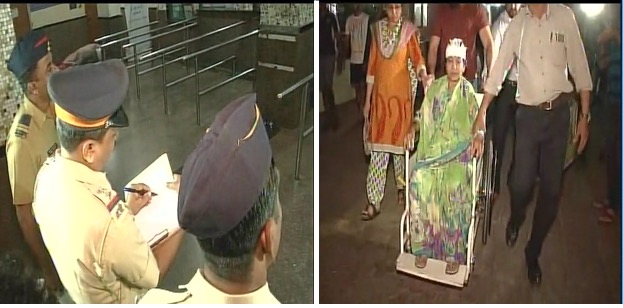 Two members of a family, including a senior citizen, were injured after a portion of the ceiling at Andheri railway station came crashing down and hit them on Sunday night.
The slab fell off the ceiling and injured Asha, a resident of Vadodara, and her nephew Sourav around 9 pm last night. Asha's head started bleeding profusely and she was immediately rushed to the emergency ward of the railway station.
"My son went to book tickets while we were standing nearby. Suddenly, the slab fell off the ceiling on my head. I was then rushed to the emergency ward by my son after which I lost consciousness. My nephew was also hurt," Asha later told ANI.
While Sourav sustained minor injuries, Asha had to get 25 stitches on her head and likely suffered a fracture in the skull.
"If this is the condition of the establishment, than think of the condition of the other old railways. One can understand what kind of materials were used for construction," an irked Sourav told the agency.
Andheri railway station, incidentally, was rebuilt just two years back.
"What happened in Elphinstone railway station, can also happen at Andheri. As Andheri is a major part of the Mumbai railways, if such incident occurs here, it will be massive," he added.
On September 29, at least 23 people were killed and 30 critically injured in a rush hour stampede in Elphinstone railway station.
"Railways have given a meagre amount of Rs 500 as compensation even after looking at the severity of her condition, which is wrong," Asha's nephew said.
When asked if they will be lodging a complaint, Sourav said: "We will be filing a complaint against Andheri Railway Station at Andheri East police station."
Doctors, meanwhile, will determine the further course of Asha's treatment after getting the reports tomorrow.
With ANI inputs