Akshay Kumar splurges Rs 18 crore on four flats in Andheri high rise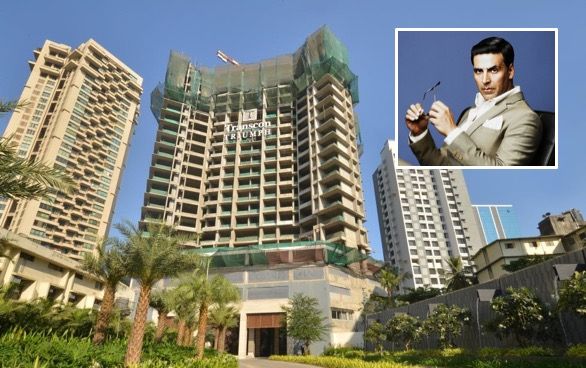 Riding on the success of his recent films, Bollywood superstar Akshay Kumar has splurged a whopping Rs 18 crore on the purchase of four sprawling flats in a 38-storey under construction luxury tower in Andheri (W).
According to an Mumbai Mirror report, the actor registered the four flats he bought on the 21st floor of Transcon Triumph, located next to Oberoi Springs off New Link Road in Andheri on November 1.
The 2,200 sq.ft flats were purchased at a cost of Rs 4.5 crore each and are registered in the name of Akshay Kumar Bhatia.
The 38-storey Transcon Triumph luxury tower, developed by Transcon Developers, has flats ranging from Rs 3.5 to 10 crore. It boasts of amenities like jogging track, swimming pool, infinity deck, barbeque corner, fitness centre, children's arena and a multipurpose court.
Kumar, among the highest tax payers in Bollywood over the last decade, is also rumoured to have one of the biggest and most diversified real estate portfolios in the industry.
Apart from the actor's sea-facing duplex apartment in Juhu, where he stays with his family, he also owns properties in Bandra, Lokhandwala and a villa in Goa.
This report has been covered in a shortened or snippet format to ensure the most crucial information is published in the shortest possible time. The report may be expanded to a full length article if the story develops further or more information becomes available.