Stray dog strangled by suspected drunkard in Dombivli, cops yet to register complaint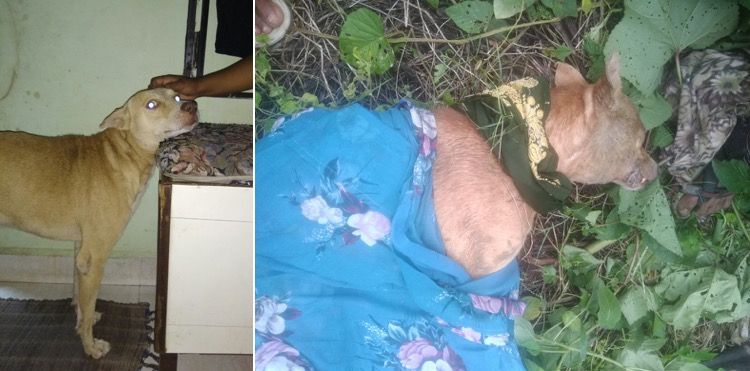 In yet another incident of animal cruelty, a stray dog was strangled to death in Dombivli on Sunday by a suspected drunkard.
A local animal activist, meanwhile, has alleged that cops are yet to file an FIR or complaint in the matter 24 hours after it was brought to their notice.
The Incident
The five-year-old stray dog, named 'Bablu' by locals, was found by residents of Siddhartha Nagar slum in Dombivli (West) during the wee hours of Sunday.
A green coloured cloth was found wrapped around his neck, giving credence to the possibility that it was strangled to death. In the morning, one of the locals called and informed animal activist and Pet-Taxi founder Laxmi Agarwal about the episode.
When Agarwal, who stays in the building close the slums, arrived at the spot, she found that the locals had shifted the dog's body from where it was originally found.
She immediately called Vishnu Nagar Police Station, following which two officials arrived on the spot.
After some back and forth over whether the crime fell in their or railways' jurisdiction, a group of locals accompanied them to the police station to file a complaint.
No Complaint Filed
The locals from Siddhartha Nagar, for whom Bablu had become more than just a stray, skipped their daily chores and jobs to go to the police station and file a complaint. They were accompanied by Agarwal.
Agarwal alleged after they arrived at the chowky, she was sent away to follow up on a previous case, while the cops spoke to locals. When the group came out a few minutes later, they told the activist that they did not intend to file any complaint.
"The people who dropped everything they were doing in the morning to visit the police station, returned without filing a complaint. They even refused to tell me why they had a sudden change in heart. It is likely that the cops pressured them into not pursuing it further," Agarwal told Local Press Co.
An official from Vishnu Nagar police station confirmed that no such complaint was registered with them, without commenting on whether any locals had been dissuaded from registered the complaint.
A local also asserted that they did not wish to register any complaint, without getting into the specifics.
Agarwal later took to social media to highlight the incident.
Nothing New
While instances of cruelty against stray dogs, ranging from kicking to killing, are not new, the slum in Dombivli has witnessed several such cases in the past few weeks.
"At least three dogs have died in the area in the last month alone. But no one knows who did it or why it was done. Since the dogs are strays, no one bothers informing the authorities. When they do, nothing ever comes out of it," a local, on the condition of anonymity, told Local Press Co.
He added that since the stray dog in question, Bablu, would often bark at drunkards at night and it was possible that one of them strangled him in a fit of rage.
Agarwal also stated that one of the strays was recently found with a broken jaw. While the culprit could never be identified, the dog was successfully treated and rehabilitated.
Current Laws Inept
Despite having over 30 million stray dogs, the current laws in India are inept at tackling cases of cruelty against these animals.
While sections 428 and 429 of the Indian Penal Code deal with offences against animals, they only apply to 'pets', which the law classifies as 'assets'.
Under these sections, a person can face a two-year jail for killing or maiming a pet animal worth Rs 10 and a five-year jail if the pet animal was worth over Rs 50.
While section 11(1)(L) (punishment for killing animals cruelly) of The Prevention of Cruelty to Animals Act, 1960 deals with cases involving the killing of any animals – including strays – in a cruel manner, it only carries a maximum penalty of Rs 50 for the first offence.
However, there have been cases in the past where offenders have been booked under section 428 of the IPC even for killing strays. In one such case, a man was booked under section 428 last year for deliberately running over his vehicle on a stray dog inside a Thane residential society.