Sunburn forced to change venue of Guetta's Mumbai gig at last minute due to permission woes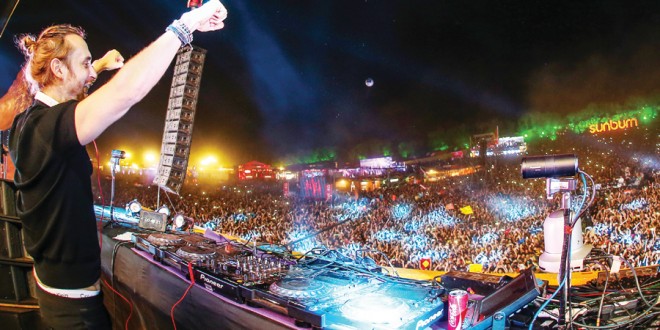 The venue of DJ David Guetta's charity concert in Mumbai was shifted at the last minute from Mahalaxmi racecourse to Reliance Jio Garden in Bandra-Kurla Complex after the BMC said the organizers did not have the necessary permissions to hold an event at the former venue.
Guetta, often referred to as the 'Grandfather' of EDM, is currently on a four-city tour in India and is scheduled to perform in Mumbai today, January 13.
Although the advertised venue for the Mumbai gig was the Mahalaxmi racecourse, Percept, who is organizing the 'Sunburn Arena' event, had to change it at the last minute on Thursday after the BMC cited the lack of compliance with the civic rules.
According to a BMC official, the organizers had failed to acquire the permission from the fire department, along with other NOCs, which are mandatory for holding at event at the racecourse.
The organizers, on their part, clarified that some pending issues with the civic body were resolved today and the change in venue was the only way of ensuring that the event does not get cancelled.
Harindra Singh, Chairman and Managing Director of Percept also said that they were in the process of notifying all 5000 odd 'digitally connected' attendees by sending them notifications about the change in venue.
Subsequently, the organizers changed the message on their website and notified all attendees about the change in venue via notifications, emails and social media posts.
While some fans were grateful about the event not getting cancelled due to the last minute glitch, dozens of angry fans blamed the organizers for failing to plan ahead and seek the necessary permissions beforehand.
"So they failed to take the permission from the BMC. Excellent job guys. For an organizer who has done many such gigs, I just cant understand what might have caused them to forget about one of the most important aspects of holding an event anywhere in the world," read one post.
The organizers also ran into trouble earlier, when they had to cancel their Bengaluru event at the last minute. The event was supposed to be held yesterday.
The situation only worsened after they cited the law and order situation following mass molestation incident as the reason for cancellation, but later backtracked and clarified that it was actually due to the clash with the local Agricultural Produce Market Committee (APMC) elections.
After Mumbai, the French DJ is scheduled to play in Hyderabad and Delhi on January 14 and 15 respectively.