SUV crashes into divider and falls into valley near Mumbai-Pune expressway, 2 dead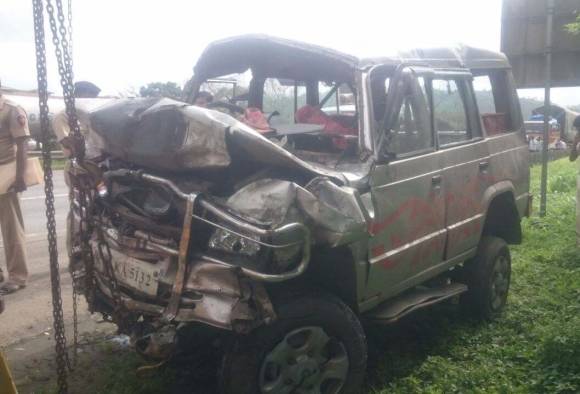 In a tragic incident, two people lost their lives after the SUV they were travelling in crashed into a divider and fell in the valley alongside the Mumbai-Pune expressway on Wednesday morning.
The incident occurred near Lonavala around 8 am on Wednesday, when the Tata Sumo driver lost control of the vehicle and rammed into the divider. Following which, the SUV fell into the valley.
According to preliminary information, two people, a man and a woman, have died due to the mishap while six others are reportedly injured. It is believed that all of them were returning from Shani Shignapur.
The injured have been rushed to a nearby hospital. Meanwhile, highway police are trying to ascertain the identities of the deceased passengers. While the car is registered in the name of Anant Waghchaure, it is not clear if he was inside the car at the time of accident.
The crashed SUV has been recovered from the valley and has been moved on the side of the highway.
The Mumbai-Pune expressway has witnessed around 14,500 accidents since it's construction in 2002, making it one of the most accident-prone highways in the country. In the past, the government has made multiple attempts to reduce the number of fatalities on the expressway, albeit with little success. It is currently running a pilot project that involves drones monitoring the flow of traffic and speeding vehicles on the expressway.
Further details are awaited.
Note: The report was added immediately after the incident. It will be updated as and when more information becomes available.