Thane police seize 1,000 kg fake 'Amul' butter during raid, arrest 5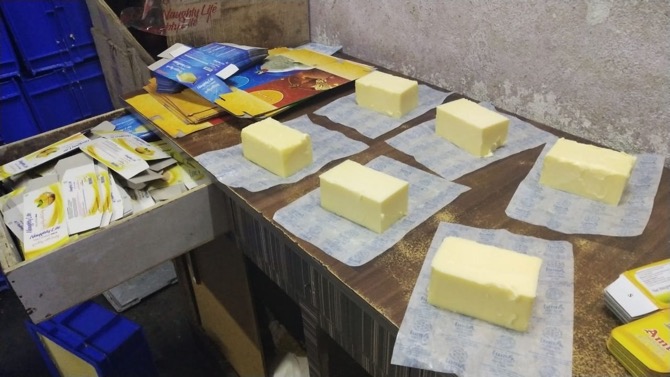 In a major bust, Thane police on Saturday arrested five people who were involved in the sale and packaging of spurious butter in Amul boxes and seized 1,000 kg of the adulterated substance.
According to reports, a team led by Assistant Superintendent of Police (ASP) Atul Kulkarni raided a flat near Bhayander Road on a tip-off. During the raid, they nabbed five persons who were packaging adulterated butter in Amul boxes and storing them.
The accused would reportedly mix locally churned butter with Sri Lankan vanaspati oil and package them in original Amul butter boxes. The boxes would be stored in freezers till they were ready for sale.
Police seized around 1000 kilograms of the fake butter, packaging material and other equipment worth Rs 2 lakh during the raid.
The men would procure original Amul boxes from hotels, who go through several such boxes in a month, for a small amount. Some boxes, however, were procured from public dustbins.
The adulterated butter would be sold for Rs 75 for 500 grams in the western suburb belt from Vile Parle to Dahisar.
The accused – Qasim Ahmed, Noor Aslam Shaikh, Naushad Shaikh, and Akhtar Shaikh – have been booked and placed under arrest by Kashimira Road police station.
Others involved in the racket, including the mastermind Tahri Shaikh, are still absconding. Further probe is underway.
Earlier this month, Food Safety & Standards Authority of India (FSSAI) cracked down on chikki manufacturer Maganlal Chikki, forcing it to shut shop for alleged violation of food safety norms at its manufacturing and packaging units.