Video: Massive fire breaks out at Navrang Studio in Todi Mill Compound at Lower Parel, fireman injured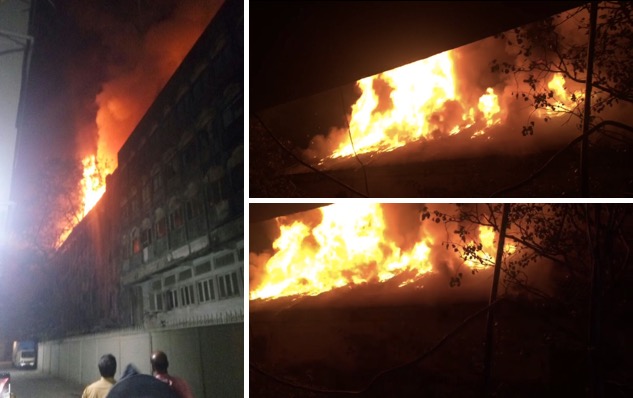 A major fire broke out at Navrang Studio inside Todi Mill Compound in south Mumbai's Lower Parel during the wee hours of Friday, leaving a fireman injured.
Part of the studio, which was shut years ago, was gutted in the blaze. The building, in which the studio is located is dilapidated and unoccupied.
"At 1 am, our firemen received a call about the blaze in Todi Mill Compound in Lower Parel. The fire brigade jawans reached the spot by 1.17 am with eight fire engines and water tankers," chief of the Fire Brigade P S Rahangdale told PTI.
The fire was escalated to Level II at 1:27 and further to Level III at 1:51 am. The flames were doused after nearly two hours of firefighting.
"The fire was confined to Navrang Studio located on the fourth floor of an industrial complex, which is quite old, dilapidated and unoccupied," Rahangdale added.
He said one of the firemen received minor injuries in the incident during fire-fighting. The fireman, Dinesh Patil (26), was rushed to Nair Hospital, where he is still receiving treatment. His condition is stable.
The incident comes almost three weeks after a massive blaze had engulfed two pubs in neighbouring Kamala Mills resulting in the death of 14 persons and leaving over 50 injured.
Earlier this month, a huge fire had gutted Cinevista studio in suburban Kanjurmarg, in which an audio assistant in was killed. The city, incidentally, has witnessed a barrage of fire-related incidents since the beginning of the year.
Video: