Video: Massive fire engulfs top floor of Sydenham College in Churchgate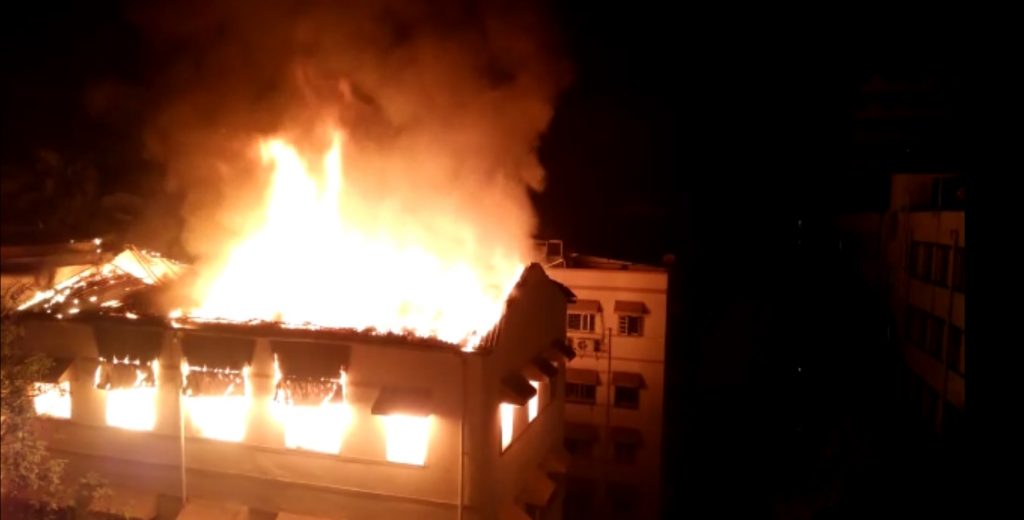 A massive fire engulfed the top floor of Sydenham College of Commerce & Economics in South Mumbai early morning on Sunday, December 25. Fortunately, the college premises were completely empty at the time and no casualties were reported.
The incident took place around 5 am at the third floor of the college building and quickly spread to the entire floor. The college is located at B- Road in Churchgate, South Mumbai.
According to Deputy Chief Officer Rajendra Chaudhary, a level I fire was reported at 5:21 am and it was escalated to Level II at 5:34 am.
Within minutes, four fire engines, five water tankers and one ambulance arrived at the spot.
"The fire was attended by divisional fire officer A.D Bangar and doused around 7:30 am," Chaudhary told Local Press Co.
The fire was caused due to a short circuit and confined to the electrical wiring, installation racks, computers, air-conditioners, fall ceiling and office records in an area of around 1000 sq.ft near the library on the third floor, Chaudhary confirmed.
Barring the security staff, the college was completely empty when the incident took place. As a result, no casualties were reported due to the mishap.
Attempts to reach the college authorities were in vain due to a public holiday.
Established in October 1913, Sydenham College is the first college of commerce in Asia. It is affiliated to the University of Mumbai and offers undergraduate degrees in commerce and undergraduate and postgraduate degrees in management.
Video: