Video: School van catches fire at Jogeshwari flyover on Western Express Highway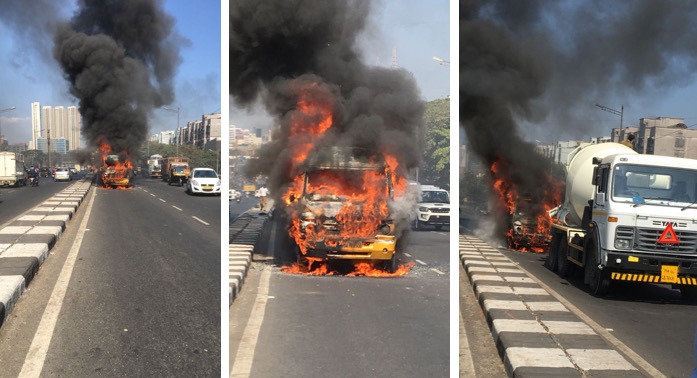 An empty school van caught fire at the Jogeshwari flyover on Western Express Highway on Thursday afternoon. The mishap took place around noon when the yellow van was travelling on the southbound lane towards Andheri.
According to eye-witnesses, there were no students in the van at the time and the driver managed to escape the vehicle just before it went up in flames. The exact cause of fire, however, is not known.
Traffic police reached the spot and alerted fire department, following which one fire engine and water tanker was dispatched. The fire was brought under control in a few minutes.
It is not known which school the vehicle was affiliated to as it was completely charred by the time the fire was doused.
Although no casualties were reported, the incident affected the movement of vehicles on the WEH stretch from Goregaon to Andheri. The traffic flow has normalised as of publishing thes report.
Video: