Video: Stray cow enters classroom at IIT-Bombay in Powai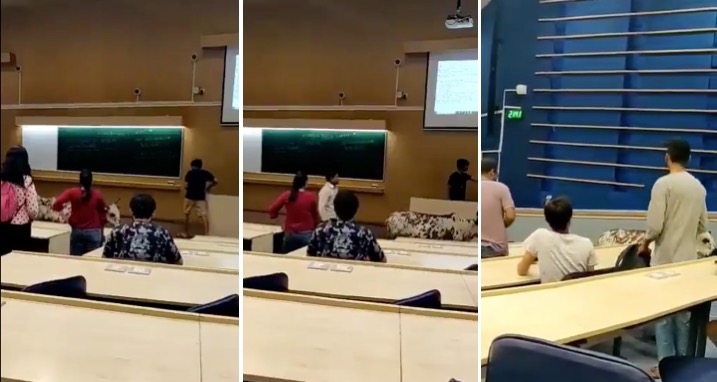 In a bizarre incident, a stray cow entered the lecture hall of the IIT-Bombay campus in Powai and disrupted an ongoing session.
The episode, caught on camera by a student and now viral on social media, has become a cause of embarrassment for college authorities.
When asked about the incident earlier today, an IIT-B spokesperson said it was unclear when and where the incident took place, adding that they were inquiring about it before issuing an official statement later in the day.
In the video, a white cow with dark spots and medium horns can be seen entering the first-floor lecture hall from one side and walking out of the door on the other side while the seemingly confused students and professor look on.
Some students, who were reportedly taking a test, even got up and tried to shoo away the cow, but she went on her chosen route calmly without any fuss.
Students claim that the incident reportedly happened last Saturday when it was raining heavily in Mumbai and surroundings, and the cattle may have entered the building for shelter, but unwittingly strayed inside a lecture hall.
This comes two weeks after an intern was attacked by a pair of bulls outside one of IIT-Bombay's hostels, raising serious concerns about the ease with which cattle and other animals can enter any building inside the campus.
The institute's campus, incidentally, is located in the vicinity of Powai lake, which is home to a variety of creatures. In the past, animals like leopards and crocodiles have also emerged from around the lake and ventured into nearby areas.