17 soldiers from Uri killed in one of the deadliest attacks on Indian army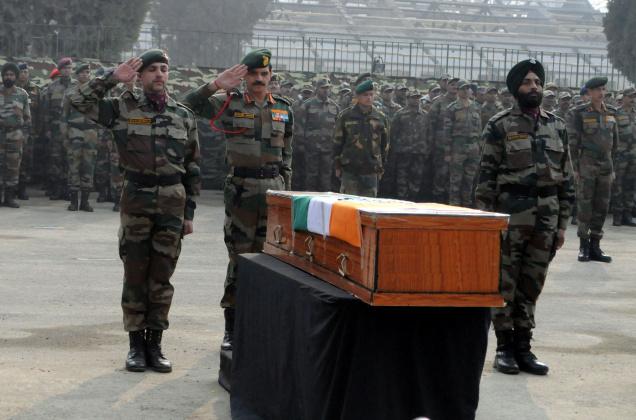 In one of the deadliest attacks on the Army in recent years, 17 jawans were killed and 19 others injured as heavily armed militants stormed a battalion headquarters of the force in North Kashmir's Uri town in the wee hours of Sunday.
Four militants involved in the terror strike were killed by the Army.
Explosions and gunfire erupted as the militants attacked the camp, which is located barely few metres away from the Army's Brigade Headquarters in Uri town, 102 kms from here, around 4 AM, official sources said.
The jawans of the Dogra Regiment were sleeping in a tent which caught fire due the explosion. The fire also engulfed the nearby barracks.
It is believed that the attack was the handiwork of a group of freshly infiltrated militants who could have entered from an area along the Salamabad Nallah.
17 jawans were killed in the terror attack, the Northern Command of the Army said. Nineteen other personnel were injured in the strike in which four militants were killed.
Defence sources said that this is one of the deadliest attacks on the Army in recent years.
In January, seven military personnel were killed when six terrorists attacked the Pathankot air base.
The attack comes two years after militants had carried out a similar type of attack at Mohra in the same area. Ten security personnel were killed in the attack that took place on December 5, 2014.
Giving details of the attack, the Army said in a statement, "A group of heavily armed terrorists targeted the rear administrative base of a unit at Uri, Kashmir. In the counter action, four terrorists have been eliminated and combing operations are in progress"
"The administrative base had large strength of troops of units turning over after their tour of duty who were stationed in tents/temporary shelters which caught fire, and resulted in heavy casualties. We salute the sacrifice of 17 soldiers who were martyred in the operation," the statement said.
Helicopters from the Army's 19 divisional headquarters in Baramulla have been pressed into service and the injured Army personnel have been evacuated from the encounter site, the sources said.
Defence Minister Manohar Parrikar and Army Chief Gen Dalbir Singh Suhag are rushing to Kashmir in the wake of terror attack in Uri.
Home Minister Rajnath Singh has also called an emergency meeting to review the situation arising out of the terror attack.
Prime Minister Narendra Modi also condemned the attacks and said those responsible for it will not go unpunished. "We strongly condemn the cowardly terror attack in Uri. I assure the nation that those behind this despicable attack will not go unpunished," Modi tweeted.
With PTI inputs