Asha Bhosle receives Rs 53,000 electricity bill for 'locked' Lonavala bungalow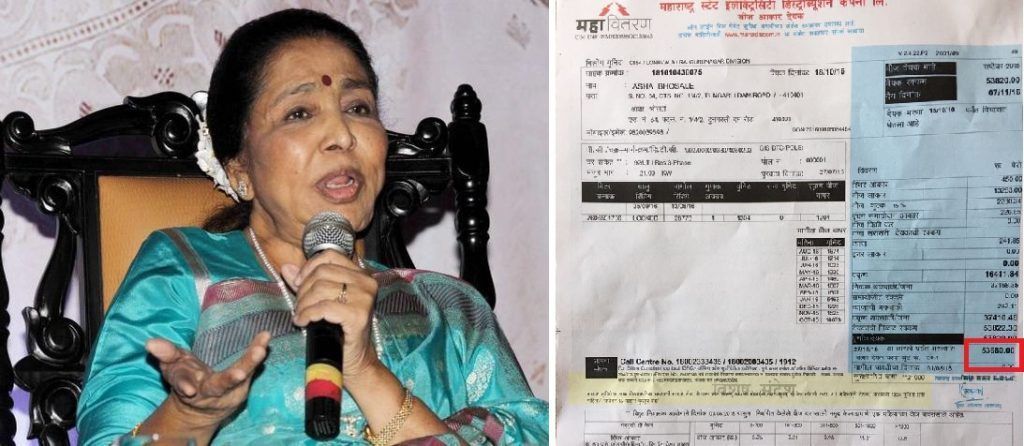 Legendary singer Asha Bhosle was flummoxed after receiving an electricity bill worth over Rs 53,000 for her bungalow, which was unused and locked for most of the month.
The playback singer owns a bungalow, located on Tungarli Dam road in Lonavala, which she rarely uses. As a result, the property is kept under lock down for most part.
Despite that, the Maharashtra State Electricity Distribution Company Ltd (MSEB) sent her an electricity bill worth Rs 53,820 last month. She has also received bills ranging between Rs 50,000 to Rs 80,000 in the previous months.
Unable to comprehend the reason for the seemingly exaggerated electricity bills, the 83-year-old approached BJP Mumbai President Ashish Shelar and conveyed her concerns.
Shelar, taking cognisance of the matter, sent a letter to Maharashtra's Minister for Energy, Chandrashekhar Bawankule, requesting his intervention in the matter.
While attempts to reach the 83-year-old were in vain, Shelar confirmed the development when he posted a copy of the letter forwarded to Bawankule on his Twitter account earlier today.
Meanwhile, Bawankule has assured Shelar and the Padma Vibhushan awardee that his department would investigate the unit consumption and make amends if necessary.
With a career spanning six decades, Bhosle is regarded as one of the greatest playback singers of all time and is acknowledged by the Guinness Book of World Records as the 'most recorded artist in music history'.
She has also been honoured with the Dadasaheb Phalke Award in 2000 and the Padma Vibhushan in 2008 for her contribution to the field of music by the Government of India.