Bridge collapses on Mumbai-Goa highway, two ST buses with 22 passengers missing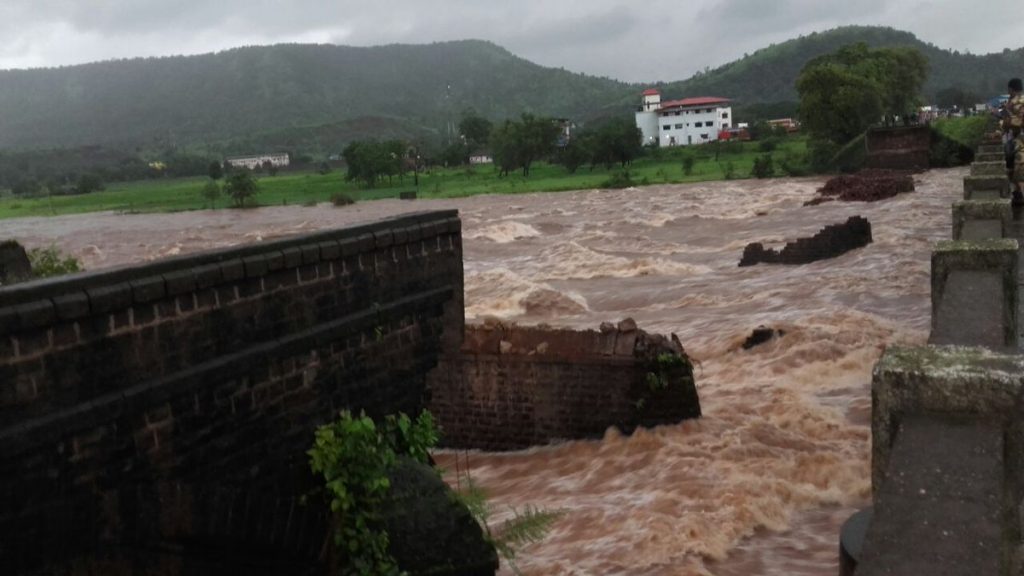 At least 22 people have been reported missing after a bridge on the Mumbai-Goa highway collapsed late Tuesday night.
The incident happened around 11:30 pm on Tuesday, when a British-era bridge across the Savitri river gave in and collapsed under the river. The bridge was located 5 km from Mahad in Raigad District and around 160 km from Mumbai.
According to preliminary investigation, the high pressure caused by the flooding of the Savitri river due to heavy rains in Mahabaleshwar led to the bridge's collapse. In the last 24 hours, Mahad recorded 230 mm rainfall, whereas Poladpur, located upstream on the Savitri river, recorded 260 mm rainfall. The Mahabaleshwar plateau recorded 390 mm rain during the same period.
---
Update on Mahad Bridge Collapse: More bodies found, search for 30 more persons underway
---
As of 9 am on Wednesday, at least 7-8 private vehicles and two Mumbai-bound state transport buses are believed to have fallen in the river. The ST buses with nine passengers and two drivers & conductors each started from Chiplun and fell into the ditch caused by the collapsed bridge. The buses were Borivali – Rajapur (MH 40 N 9739) and Jaigad – Mumbai (MH 20 BL 1538).
At least 22 people have been reported missing due the the incident. The number is likely to increase.
After the incident, officials from the traffic police and district administration reached the spot and diverted the traffic through a different route. The traffic on the approach roads, which had been on a standstill for a few hours, is being rerouted via Mangaon, Birwade and Dadli. The movement of heavy vehicles has been restricted.
Meanwhile, three teams of the National Disaster Response Force (NDRF), comprising of around 80 personnel, have been deployed for conducting rescue operations.
The state government also set up a help line to assist those seeking information. The helpline numbers are (02141) 222118 and 1077 (toll free).
A Coast Guard helicopter has also been roped in, but heavy rains and flooded river are making the rescue operations difficult.
Both Prime Minister Narendra Modi and Maharashtra Chief Minister Devendra Fadnavis have taken note of the situation and assured prompt action.
Spoke to Raigad SP & Collector about bridge collapse on Mumbai-Goa highway.
Administration has rushed to spot for rescue&immediate measures.

— Devendra Fadnavis (@Dev_Fadnavis) August 2, 2016
The primary reason seems to be the high pressure caused due to flooding of river Savitri due to heavy rains in catchment of Mahabaleshwar.

— Devendra Fadnavis (@Dev_Fadnavis) August 2, 2016
There were 2 parallel bridges : one is a new bridge and one constructed during the British era.
The old one got collapsed.

— Devendra Fadnavis (@Dev_Fadnavis) August 2, 2016
Mumbai goa highway near mahad on savitri river bridge is collapsed pic.twitter.com/9zEgTjXgye

— niranjan (@npsinghsm) August 3, 2016