In Pictures: Nashik on high alert after heavy rainfall, social media flooded with images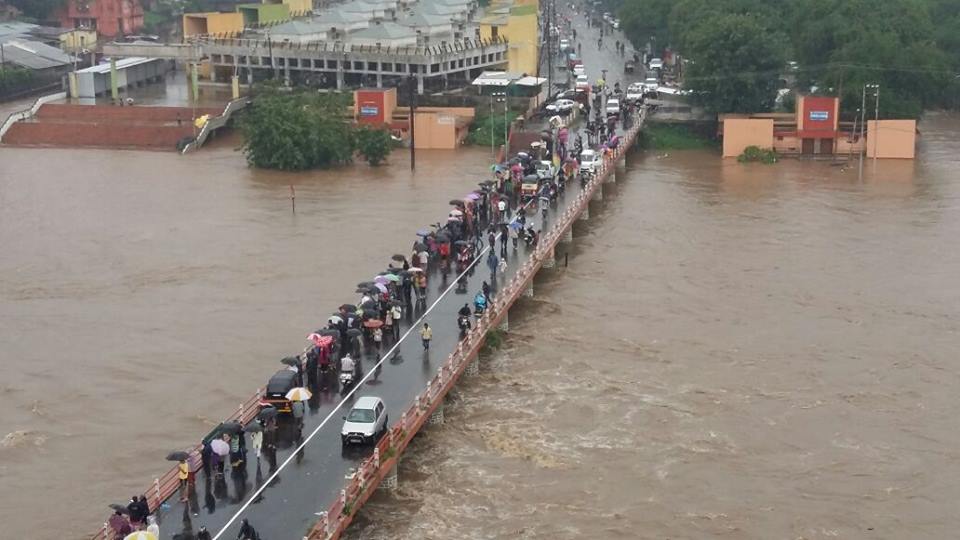 Three days of incessant rains finally reached a tipping point on Tuesday, when the irrigation department had to release massive quantities of water from Nashik's Gangapur dam.
According to a PTI report, tribal-dominated Igatpuri Tehsil received 213 mm rains while 128 mm rains was recorded each in the temple towns of Trimbakeshwar and Peint in the last 24 hours.
142 mm rainfall was recorded in Dindori while Surgana received 139 mm rains during the same period. Nashik recorded 95 mm rains in the last 24 hours, said officials of the district collectorate.
The Nashik City Police took to social media to inform residents about the situation and requested them to avoid flood-prone areas. The city police specifically asked citizens to avoid visiting Ashok Stambh, Panchavati, Raviwar, Karanja Area and Ram Wadi Bridge.
Following the heavy downpour, 21,000 cusecs water was released from the Gangapur dam in the Godavari river, while 20,200 cusecs water was released from the Darna dam in the Darna river, officials from the Irrigation department said.
In addition, 35,928 cusecs water was released from the Palkhed dam in Kadava river, causing the Godavari, Darna and Kadava rivers to flood.
The district administration has also issued an alert to residents staying on the bank of river Godavari to move to safer places.
District Collector Radhakrishnan B and Nashik Police Commissioner S Jagganathan, along with senior officials of the Nashik Municipal Corporation, are personally monitoring the situation.
Update: Around 5 pm, 42000 cusecs of water was released from the Gangapur dam.
Images:
Videos:
WhatsApp fwd from Nashik today pic.twitter.com/GsNXzfIIIE

— AP (@ap_pune) August 2, 2016