Donald Trump elected 45th US President, addresses nation after winning election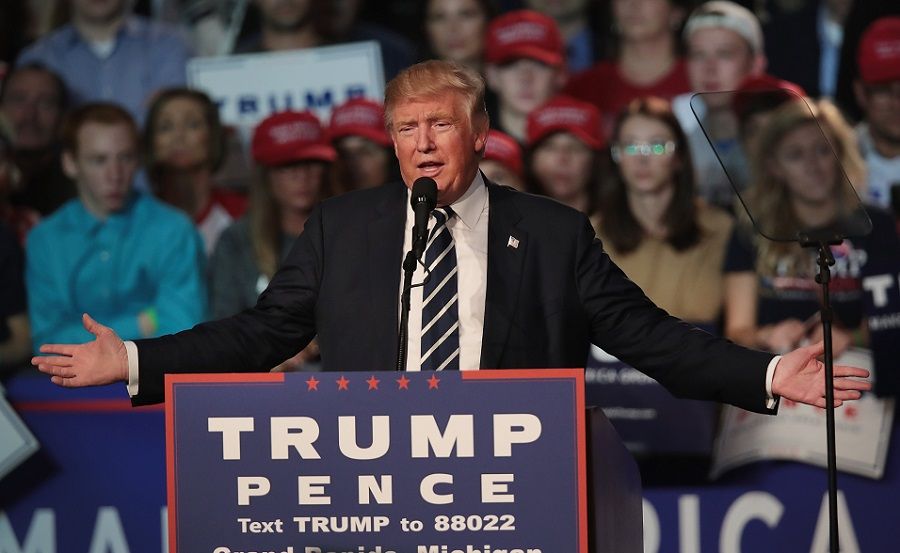 Republican nominee Donald Trump on Wednesday defied the odds by defeating Democratic rival Hillary Clinton in one of the most bitterly fought battles for the White House to become the 45th US President.
Billionaire businessman, Trump, thwarted Clinton's dream to be the first US female President of America, defying most predictions and opinion polls.
To win, a candidate needed 270 out of 538 total electoral votes to control the White House.
According to US media reports, Trump won with 288 electoral votes compared to Clinton's 215.
Tuesday's election capped months of divisive campaign and ugly, personal attacks that took a heavy toll on American voters, many of whom were eager to see a change in Washington and break the status quo of eight years of Democratic rule of President Barack Obama.
In his victory speech at New York, Trump sounded conciliatory and pledged to be the leader "for all Americans" who needed to "come together as one united people".
Addressing cheering supporters, he called for rapprochement between the Republicans and Democrats and even thanked Clinton, who called and congratulated him on the victory.
"And I congratulated her on her hard campaign. We owe her a major debt of gratitude to the country," he said.
"Ours was not a campaign, but a movement. It is a movement comprising from all races, background and believes. Working together, we would begin the urgent task of rebuilding the country. The country has a tremendous potential," he said.
"We are going to fix inner cities, we are going to build our infrastructure. We would put millions of people to work as we rebuild it," he told supporters amid loud cheers.
It was one of the most dramatic victories in a Presidential battle. Only weeks ago Trump appeared to be losing after he was heard making outrageous sexist remarks in a leaked video.
On Wednesday, a confident Trump promised to make "America great again" rebuild its infrastructure, "which will become, by the way, second to none… We will embark upon a project of national growth.
"We have a great economic plan. We will double our growth and have the strongest economy anywhere in the world."
Trump said the US under his leadership "will get along with all other nations willing to get along with us. America will no longer settle for anything that is less than the best.
"I want to tell the world community that while we will put American interests on top, we will deal fairly with everyone."
Mike Pence, 57, will be Trump's Vice President. Trump's "leadership will make America great again", Pence said shortly after Trump was declared the winner.
At 70, the controversial businessman and television celebrity will be the oldest President ever elected to a first term. He is also the first to win the US Presidency without having previously held public office or served in the US military.
The election results, repudiating Washington's political elite who had predicted a Clinton victory, indicated that it was a plainspoken challenge to political correctness of Clinton that mattered for voters.
The presumption, of almost all American news outlets, was that Trump had a slimmer chance of reaching the White House than Clinton.
But all predictions proved wrong one by one as the results poured in.
Trump won several states including battleground Florida, Ohio and North Carolina as well as states that were expected to go the Clinton way.
According to The Washington Post, the decisive results came from Pennsylvania and Wisconsin where Clinton did not hold a single event during the campaign because she was so sure of her victory.
CNN projected that Trump won 29 states whereas Clinton emerged victorious in 18.
Trump won: Pennsylvania, Florida, Alaska, Utah, Iowa, Arizona, Wisconsin, Georgia, Ohio, North Carolina, North Dakota, South Dakota, Nebraska, Kansas, Oklahoma, Texas, Wyoming, Indiana, Kentucky, Tennessee, Mississippi, Arkansas, Louisiana, West Virginia, Alabama, South Carolina, Montana, Idaho and Missouri.
Clinton won: California, Nevada, Hawaii, Illinois, New York, New Jersey, Maryland, District of Columbia, Vermont, Massachusetts, Connecticut, Delaware, Colorado, New Mexico, Virginia, Oregon, Washington and Rhode Island.