Honda Activa crosses 2 crore volume mark, remains world's largest selling two-wheeler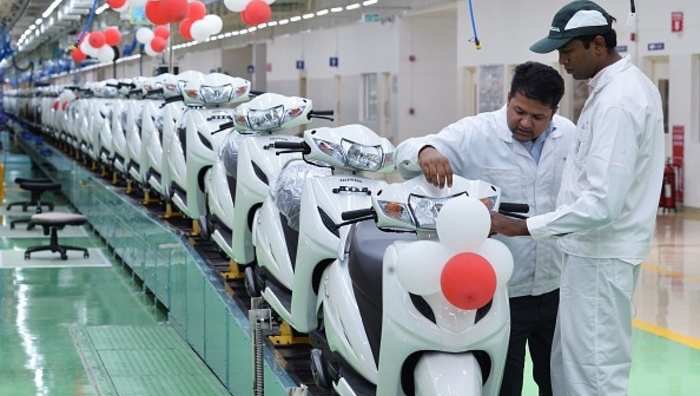 In a landmark achievement, Honda Motorcycle & Scooter India's (HMSI) flagship 'Activa' brand of automatic scooters crossed the 2 crore customer mark on Wednesday.
Activa, which pushed Hero Motorcorp's flagship 'Splendor' to second position in May 2017, has retained top spot as largest selling two-wheeler brand in the country. It is also the largest selling two-wheeler globally.
"We've booked our 20 millionth (2 crore) Activa customer today. While it has taken us 15 years to get the first 10 millionth customer, we have achieved the second 10 millionth customer in just three years," the company said in a statement.
HMSI, which runs the world's largest scooter-only plant at Vithalapur in Gujarat with a 1.2 million annual capacity recently announced an additional 0.6 million capacity expansion there to meet the growing demand for automatic scooters.
Contributing over 33 percent of global volume for the parent Honda, HMSI is the largest volume contributor for the Japanese company.
Minoru Kato, president and chief executive at HMSI, attributed this to constant value addition over 18 years, and five generations of Activas.
Elaborating on the reason of success of the Activa, Yadvinder Singh Guleria, senior Vice-President for sales and marketing said, "since its launch in 2001 as our first two-wheeler here, Activa has successfully re-activated the automatic scooter market."
Offering a perspective of Activa's historical journey, Guleria said from selling 55,000 units on the debut year in 2001, the volume crossed 5 lakh-mark in 2003 and in the next two years the volume doubled to cross the 1-million mark.
In 2012, the volume had breached the 5 million mark and in 2015 it grew to 10 million, and has doubled this number in 3 years to reach 20 million.
With agency inputs