Indian deposits in Swiss banks fell by 80% under Modi government: Piyush Goyal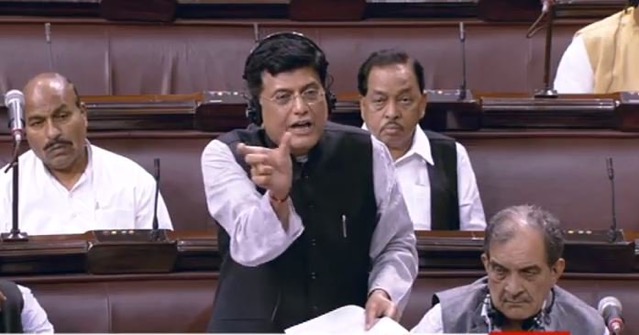 Interim Finance Minister Piyush Goyal on Tuesday stated that the Bank of International Settlements data has shown a decrease of 34.5 percent in assets held by Indian residents in Switzerland in 2017, as compared to 2016.
During the Question Hour Session in Rajya Sabha today, Goyal clarified that the earlier data claiming 50 percent increase was misinterpreted as it included non-deposit liabilities, business of Swiss branches in India, inter-bank transactions and fiduciary liability.
News reports quoting Swiss Bank's annual statistics showed increase of 50% in its total liabilities towards India in '16-'17. Data is misinterpreted, it includes Non-deposit liabilities,Business of Swiss branches in India,Inter bank transactions,Fiduciary liability: P Goyal in RS pic.twitter.com/tSWZUpjz5R

— ANI (@ANI) July 24, 2018
He also informed the house that after the Narendra Modi-led government came to power in 2014, the amount deposited in Swiss National Banks has fallen by 80 percent between 2014 and 2017.
After Modi govt came to power in 2014, the amount deposited in Swiss National Bank has reduced by 80% between 2014 and 2017: Finance Minister Piyush Goyal in Rajya Sabha pic.twitter.com/djJxxxEcGj

— ANI (@ANI) July 24, 2018
Trinamool member Sukhendu Shekhar Roy had sought to know how much black money had been recovered under various agreements with Switzerland, and when each Indian would get Rs 15 lakh in their bank accounts.
To this, Goyal said that the MP seemed to have information that even the government did not. The opposition members loudly objected to Goyal's remarks, following which chairman M. Venkaiah Naidu adjourned the House till 2 pm.
Earlier this week, the Finance Ministry refused to share a copy of three reports on the quantum of black money held by Indians inside the country and abroad, saying its disclosure would cause a breach of privilege of Parliament.
The ministry said these reports were submitted to the Standing Committee on Finance on July 21 last year and the committee is now seized of the matter.
"Accordingly, the disclosure of information would cause a breach of privilege of the Parliament. Therefore, the information sought is exempt from disclosure under Section 8 (1) (c) of the RTI Act," it said in reply to the RTI application filed by a PTI correspondent.
Since coming to power, the NDA government has repeatedly claimed that it has curbed the use of black money. The opposition, however, has remained skeptical.
The opposition parties have also alleged that certain industrialists, with the connivance and protection of the Modi government, have fled the country with black money and unaccounted wealth.