Indore-Patra Express derailment: Death toll rises to 133, high-level probe ordered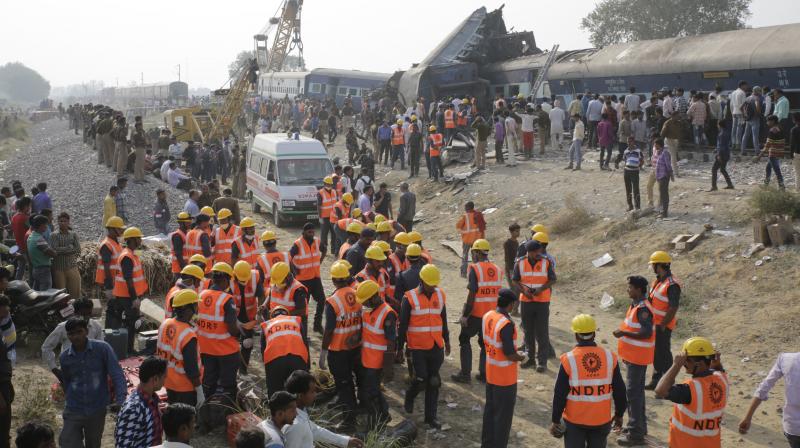 The death toll of the horrific derailment of the Indore-Patna Express near Pukhraya in Kanpur mounted to 133, as rescue workers continued to work towards pulling out trapped passengers from the mangled coaches through the night.
As of Monday morning, all 14 derailed coaches of the Patna-bound train 19321 have been removed from the tracks.
According to IG (Kanpur range) Zaki Ahmad, 133 bodies have been found so far, out of which 110 have been identified.
97 bodies have been handed over to relatives, he said.
With several passengers feared trapped, rescue personnel had employed cold cutters to break open the compartments.
Nearly 200 were injured in the worst train accident in recent years which took place just a little after 3 am yesterday (November 21).
According to a PTI report, coaches S1 and S2 had telescoped into each other and most of the casualties were feared to have been in these two compartments. S3 and S4 coaches also suffered severe damage while an AC III tier coach was also affected but casualties in it were not heavy.
Railway personnel assisted by army, NDRF and state police carried out the search and rescue operation overnight under floodlights. Most of the bodies were taken to Mati mortuary in Kanpur rural.
According to railway authorities, a majority of victims were from Uttar Pradesh, Madhya Pradesh and Bihar.
76 passengers were seriously injured in the derailment, Ahmad said. 150 others received minor injuries in the mishap.
Although the actual reason for the derailment is not clear, officials said the accident could have been caused due to a track fracture.
Following the incident, Union Railway Minister Suresh Prabhu ordered a high-level probe.
UP Chief Minister Akhilesh Yadav has announced compensation of Rs 5 lakh for the kin of each of the dead in the accident, while Prime Minister Narendra Modi sanctioned Rs 2 lakh. On his part, the Railway Minister enhanced the ex-gratia grant from Rs 2 lakh to Rs 3.5 lakh to the families of the dead.
Madhya Pradesh Chief Minister Shivraj Singh Chouhan announced Rs 2 lakh for kin of each of the deceased.
Railways have made available the following helpline numbers — Indore-07411072, Ujjain- 07342560906, Ratlam- 074121072, Orai-051621072, Jhansi- 05101072, Pokhraya- 05113270239.
North Central Railway General Manager Arun Srivastava had earlier said that traffic on Kanpur-Jhansi section will be opened in 36 hours. Four trains were cancelled and fourteen diverted after the derailment disrupted traffic on the route.
Meanwhile, several doctors with private practise lent a hand to doctors in government hospitals, by accommodating patients in their clinics and arranging blood donors.